(For the best reading experience, you should click "view online" if you're reading this on email.)
---
Of the top 20 rushers in FBS history, an exclusive club of dudes™ exists who put their numbers up in just three seasons:
Jonathan Taylor (6th all-time)
Herschel Walker (17th)
Garrett Wolfe (18th)
Taylor's a household name because he played at Wisconsin recently, and now he's a star in the NFL. Walker's one of the most legendary college football players ever, and is relevant today because he just hilariously lost an election in his home state. But what about Garrett Wolfe?
Unless you're a college football diehard, or you root for Northern Illinois or a MAC/Big Ten team who played against him, you probably don't know about Wolfe's legendary career at NIU. We're changing that right now, because he was one of the most exciting players in CFB history and deserves to be remembered as such.
In an era that still favored LARGE running backs, Wolfe's 5-7, 172-pound frame –along with some academic issues– kept him from getting major offers. That took the Chicago kid 64 miles west to Dekalb for college, and an offense that was a perfect fit. Not only did Huskies Head Coach Joe Novak love running the rock, but he also didn't give a shit how big or small the guys running it were. If you could play, you could play. While Wolfe sat out the 2002 and 2003 seasons due to a redshirt and academics, he watched future two-time NFL Pro Bowler Michael Turner give him blueprint for success in the NIU offense. Turner (listed at 5-10) posted back-to-back 1,500-plus-yard seasons, helping the Huskies to an 18-6 record over those two years, including when he ran for 156 yards in their 2003 win over Alabama.
Turner's graduation left the Huskies without their all-time leading rusher heading into 2004, and they had a stable of unproven backs to choose as his replacement. Their pick wasn't Wolfe, at least not initially. He began the year as the third-string back, and put up unimpressive numbers over the first three games, even though he scored in each:
An injury to starter AJ Lynch late in second quarter of their next game against Bowling Green finally gave Wolfe the opportunity he needed. He seized it, running for 200 yards in the second half alone, scoring three touchdowns, and embarrassing BG defenders with an array of speed, vision, and violent stiff-arms: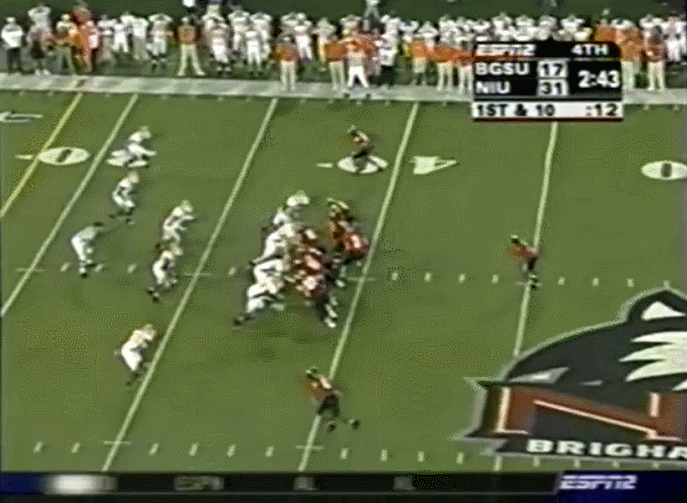 He never gave the starting job back, and from Bowling Green through NIU's regular season finale against Eastern Michigan (7 games), Wolfe ran 207 times for 1,470 yards (7.1 per carry) with 16 touchdowns. Despite starting the season as NIU's third back, playing sparingly in the first 3 1/2 games, and missing a November game against Toledo due to injury, Wolfe finished the season seventh nationally in rushing:

---
If that wasn't enough to convince people that he was for real, his first two performances of 2005 left no doubt. NIU's never been shy about playing power five teams, and that year they started with two road games against Michigan and Northwestern. Wolfe tore them both to shreds. He ran 51 times for 393 yards (7.7 per carry), with four TDs, highlighted by this 76-yard masterpiece against the Wolverines: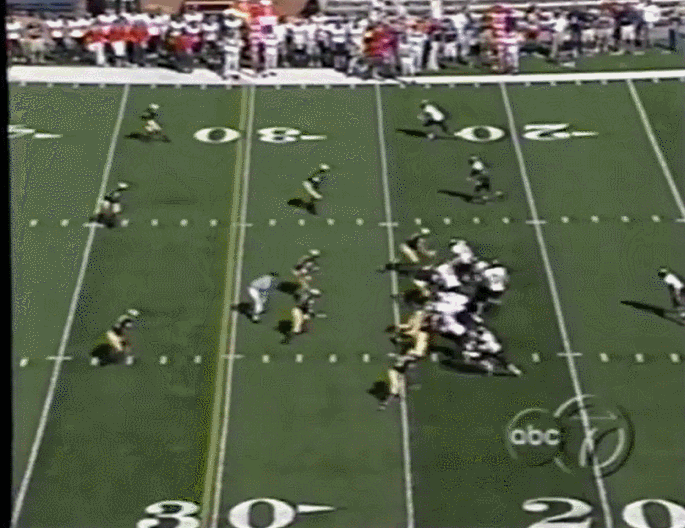 Injuries unfortunately cost Wolfe three games in 2005, but he still finished with 1,580 rushing yards, good for fifth nationally. Most people probably laughed when he got a few third-place Heisman votes, but Wolfe was finally bubbling on the college football radar.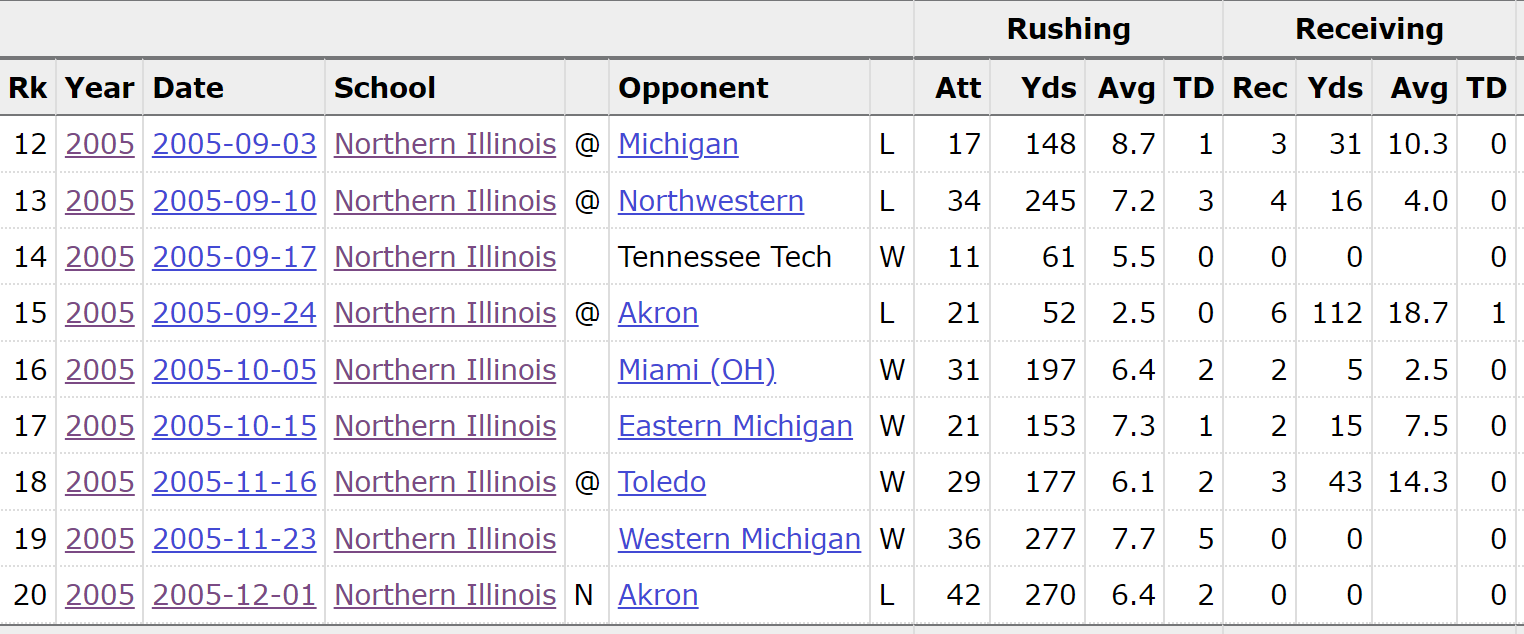 Back-to-back monster seasons earned Wolfe national recognition at the start of 2006. Playboy (Yes, Playboy!) named him a First-Team Preseason All-American (Playboy All-American teams were a thing that people cared about, I promise!). He also got a Third-Team nod from The Sporting News, and Street and Smith's magazine had him as a preseason Heisman candidate. The hype for Wolfe was building, and NIU's season opener at No. 1 Ohio State provided the spotlight for him to jump from being a cool story into a bonafide star.
---
Ask any Ohio State fan what they remember about the 2006 NIU game, and there's a 99 percent chance it'll be this: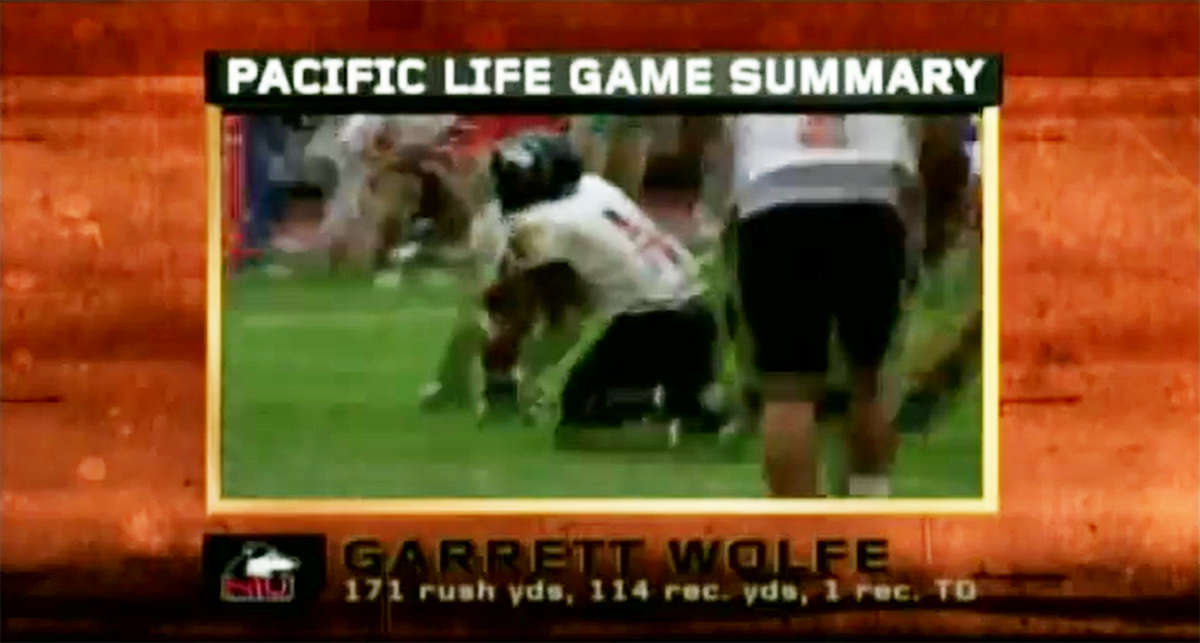 Wolfe was a one-man show, racking up 285 total yards on 31 touches. He broke off big runs, spun out of tackles, and in my opinion was the most dynamic player the 2006 Ohio State defense faced, and that's including nightmare matchups against Texas' Jamaal Charles and Florida freshman Percy Harvin. NIU lost 35-12, but it still might be the best game I've ever seen an opposing player have against Ohio State.
The Garrett Wolfe hype train was already at full speed when NIU left Columbus, and by mid-October, he had serious chance of becoming a Heisman finalist. Through NIU's first six games, Wolfe tied the (then) NCAA record for fewest games to reach 1,000 yards rushing (5), set a school record with 353 yards at Ball State, and had 1,505 total yards and 14 TDs. It was a full season of All-American production in just half the games, and Wolfe was on such an absurd 12-game pace (2,686 yards) that challenging Barry Sanders' single-season rushing record (2,628 in 1988) wasn't out of the question.

Unfortunately, he hit a wall in mid-October. NIU lost three of four games, with Wolfe putting up meager numbers in each, effectively tanking his candidacy. He closed the regular season with two strong performances against Central and Eastern Michigan, before the TCU defense ate him and the NIU offense alive in the Poinsettia Bowl. Even so, Wolfe still led the country in rushing, finished 11th in Heisman voting, and was unjustly named an AP Third-Team All-American, mostly because the majority of CFB writers only watched 10 teams every season. (Still true today!)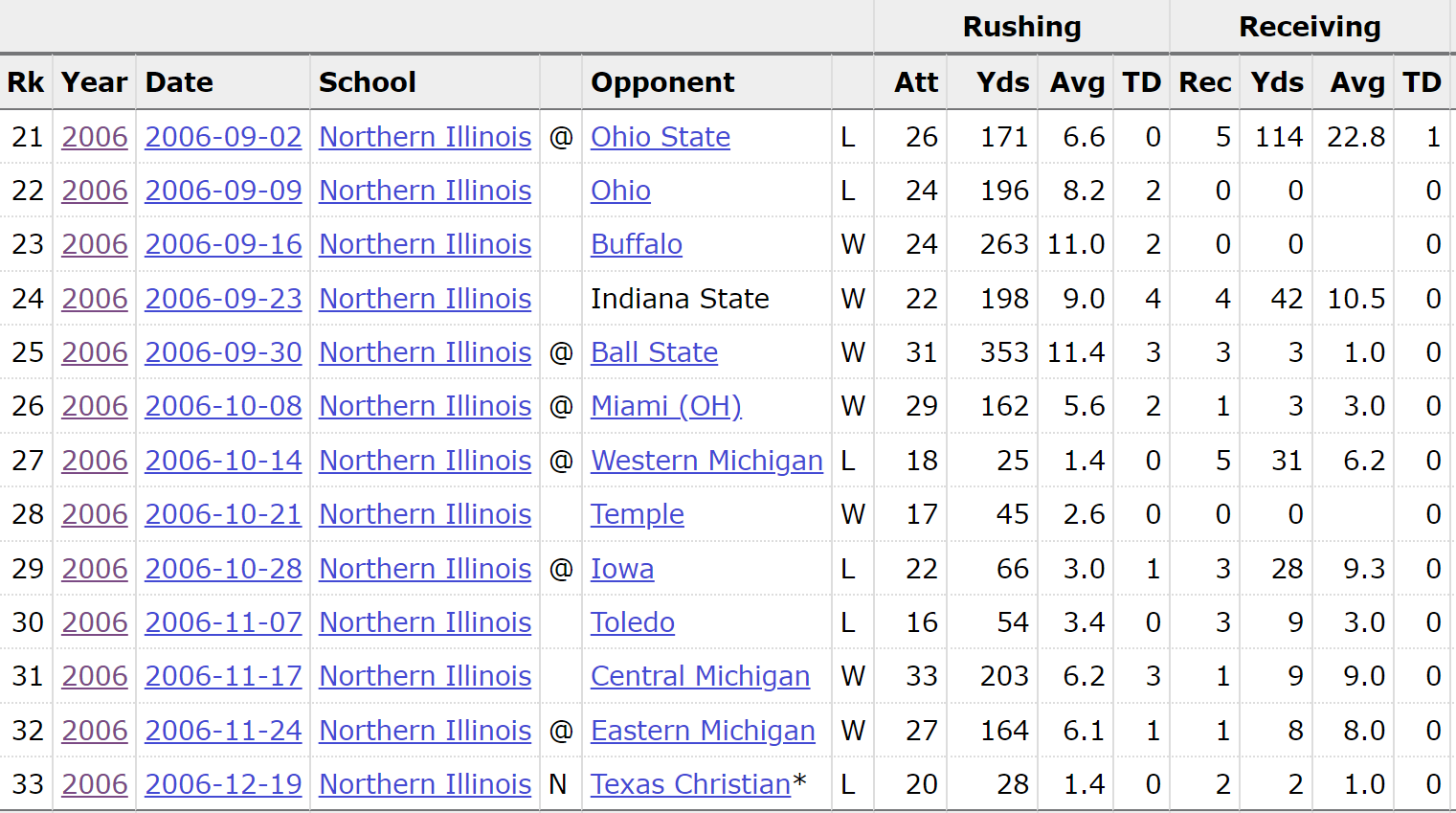 Wolfe's college accolades hold up nearly 20 years later. He's 18th on the FBS all-time rushing list (5,164 yards), and first in NIU history in both rushing yards and total TDs (57). He was a third round pick by his hometown Chicago Bears in 2007, playing four NFL seasons and scoring one career TD. He didn't have the pro success to make skeptics believe he was anything more than "just" a great MAC running back who was too small to make it in the league, but I'm convinced that Wolfe was about seven years ahead of his time, and would be a dynamic offensive piece in today's NFL. Regardless, he was a special player, and it's worth remembering just how fun it was watching him tear defenses up every Saturday.