Uniforms
I went to an NFL preseason game looking for obscure jerseys. Here's what I found
Prepare to be shocked and horrified.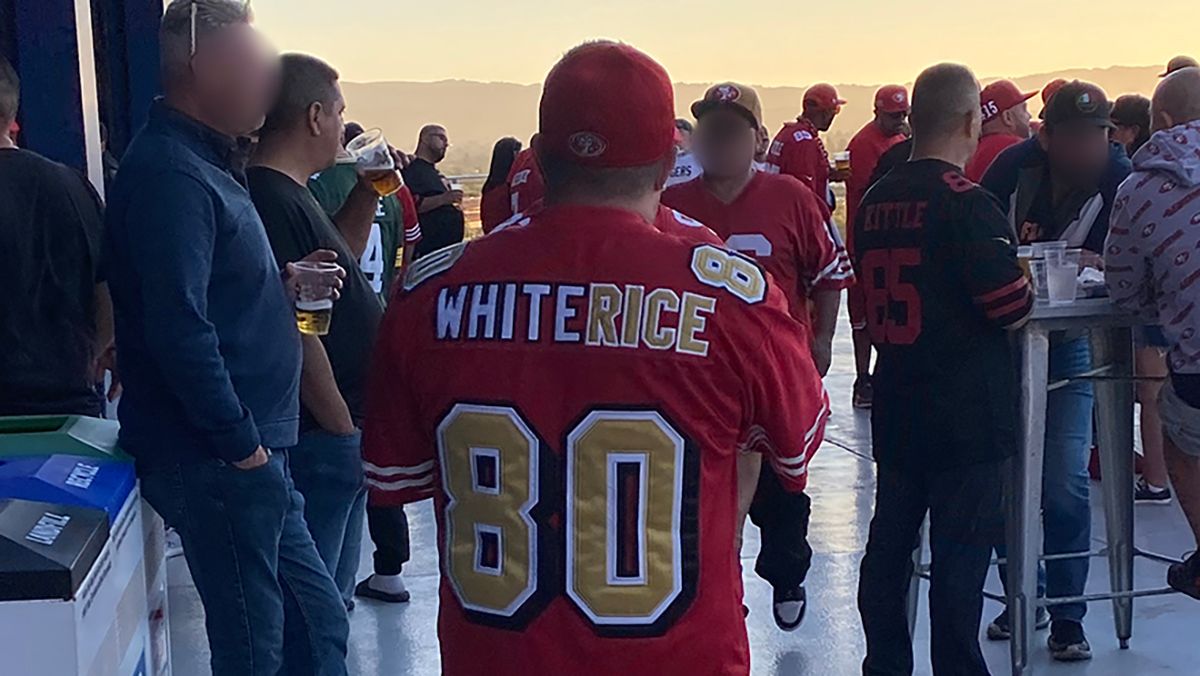 (For those reading on e-mail: Click 'view online' to read the full article)
---
Have you ever seen a grown man in a Darth Vader Jersey?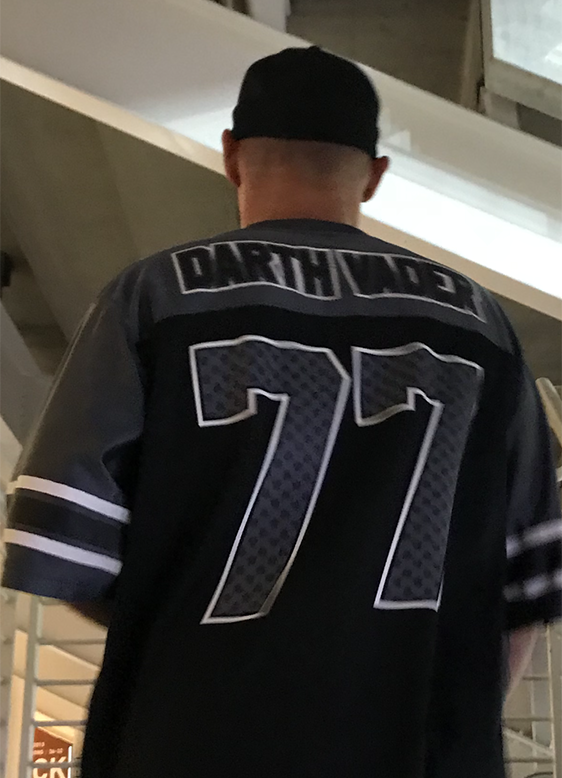 I witnessed this monstrosity at a 49ers-Cowboys preseason game in 2018, and it opened my eyes to the larger world of uniform etiquette (or lack thereof) at NFL stadiums. It also led me to two of the most important questions I've ever asked myself: What jerseys would I see if I spent the rest of the game just circling the concourse, and could I possibly find something more depraved than a two-tone Darth Vader authentic? (This is what the front looks like, if you were wondering) The latter was impossible to beat, but the former wielded some truly special gems. Here were the highlights:
A Frank Gore jersey with an upside down-nameplate: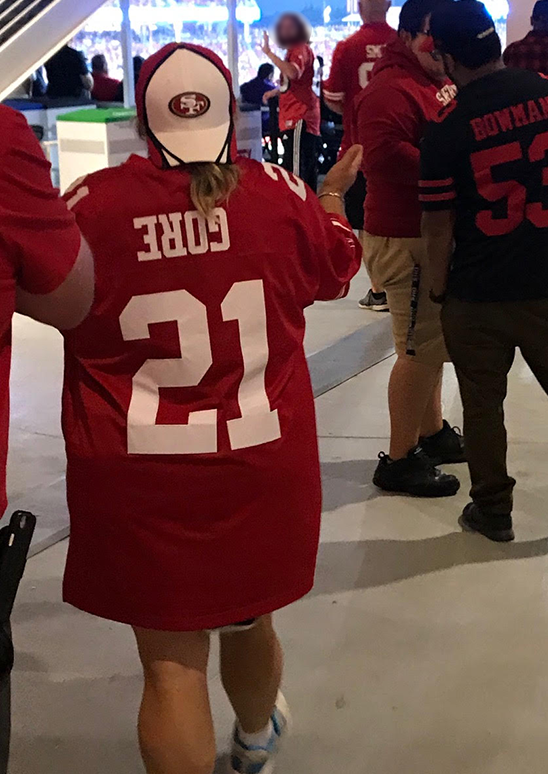 A Punisher jersey, which looks like it's the same exact style as the Darth Vader: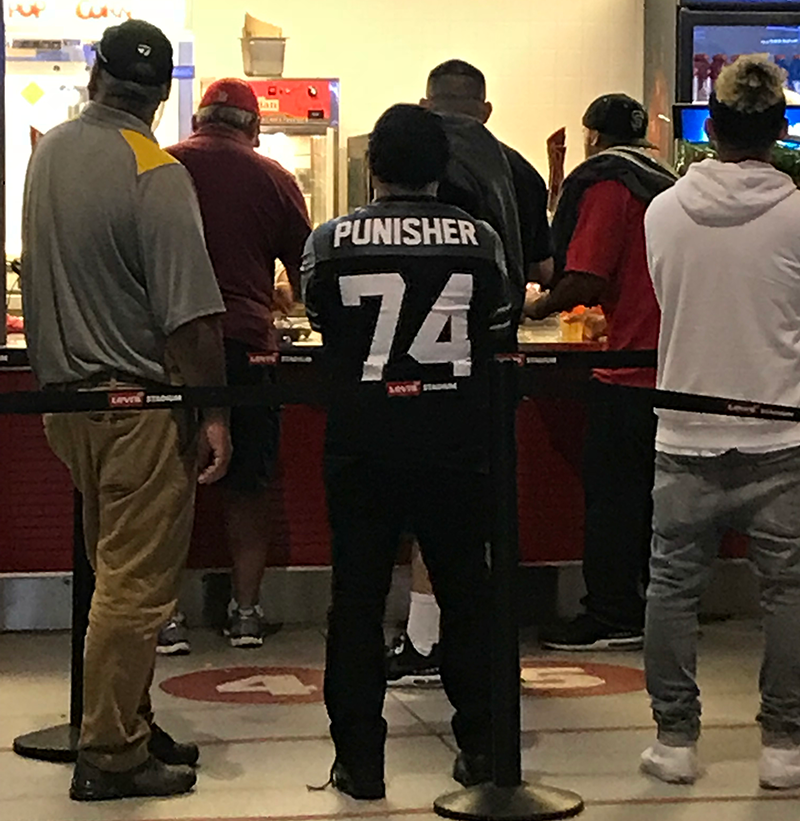 An extremely depressing silver Jerry Rice fashion jersey: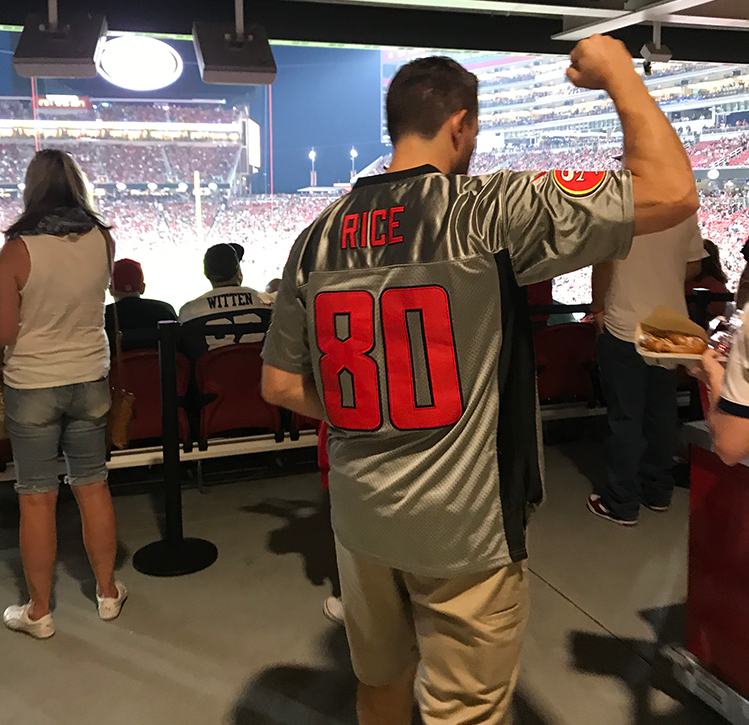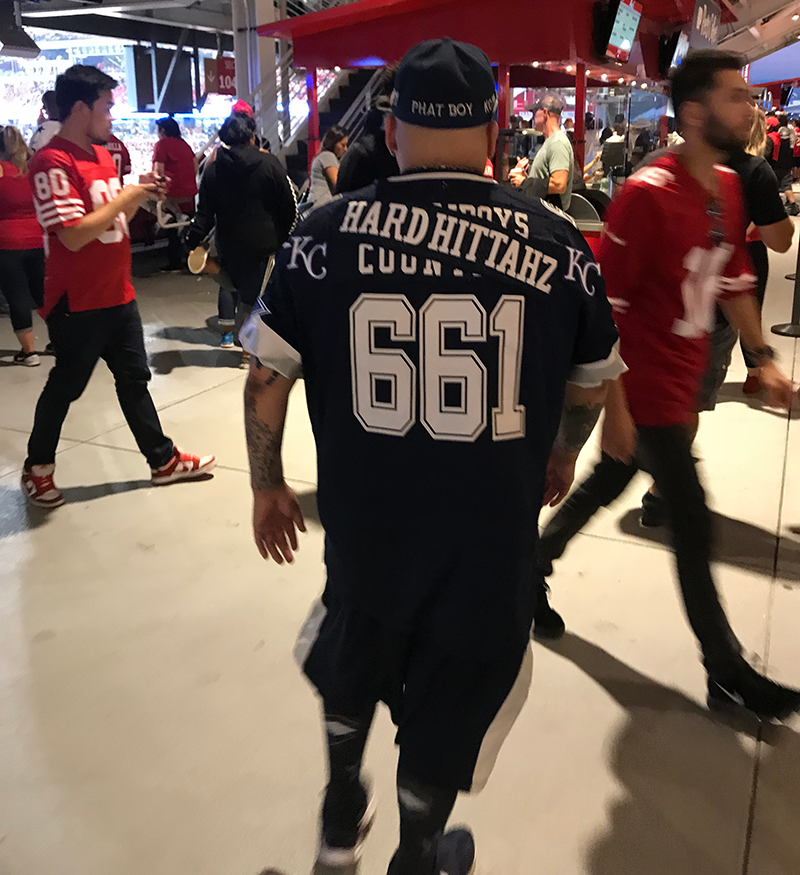 Assorted jerseys from teams not playing in that game, including a Sebastian Janikowski Raiders, Michael Strahan Giants, and a couple in Von Miller Broncos jerseys that I'm 98% sure broke up 10 seconds after I took this photo: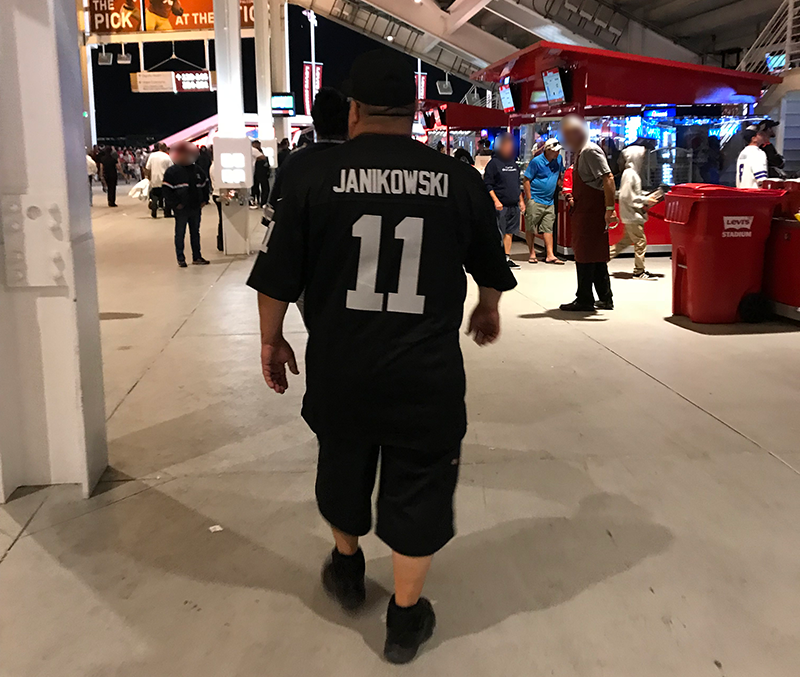 And finally, one of the rarest jerseys you'll ever see: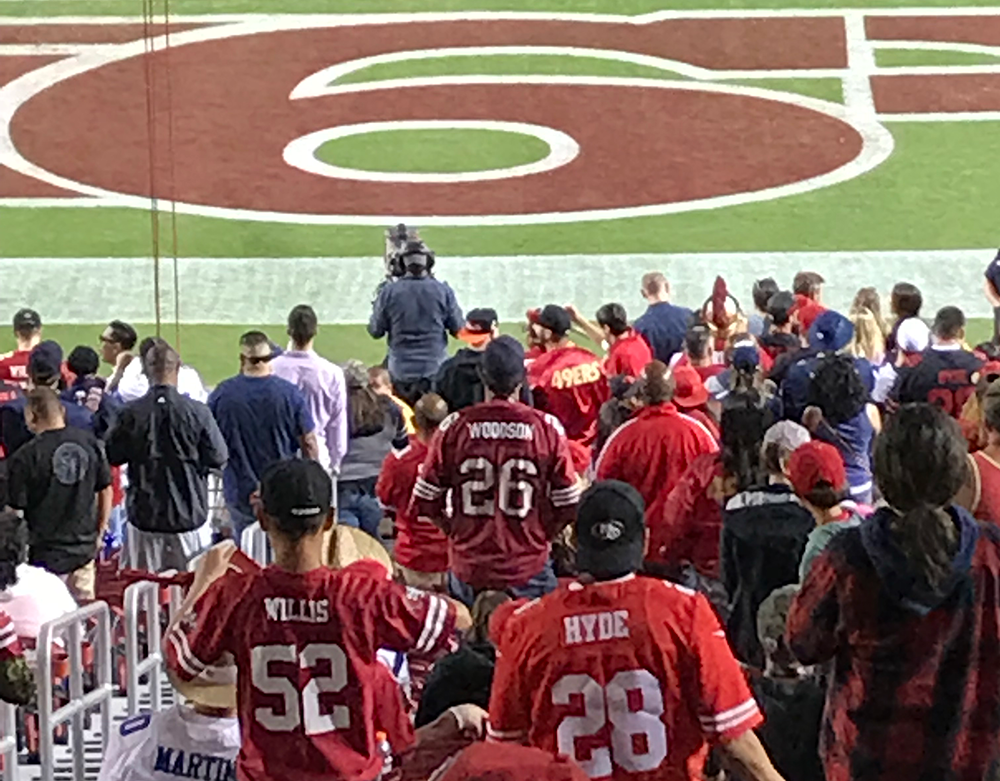 After 10 seasons as a Steeler, Hall-of-Famer Rod Woodson signed in San Francisco in 1997. He played just 14 games (!) as a Niner, before bolting for Baltimore and then Oakland for the final six seasons of his career. Whoever bought this jersey did so at some point 25 years ago, and this guy was still rocking it in 2018! I've got nothing but pure reverence and respect for people who wear jerseys like this. It's probably the best one I've ever seen out in public. It made my three-plus hours of walking around that night worth it, and I told myself that if I ever went to another NFL preseason game I would document this exercise.
---
That leads us to last weekend
I decided to grab a ticket to the Packers-49ers game at the last minute, and my plan was simple: Walk the concourses and find the most heinous, obscure, and unique jerseys that could compete with what I saw in 2018. Here's what I found:
People who want everyone to know that they don't root for either of the teams playing
I'm pro-jersey in almost all situations, but one thing I can't stand are people who do this. I saw a ton of it in 2018, and it was even worse this time: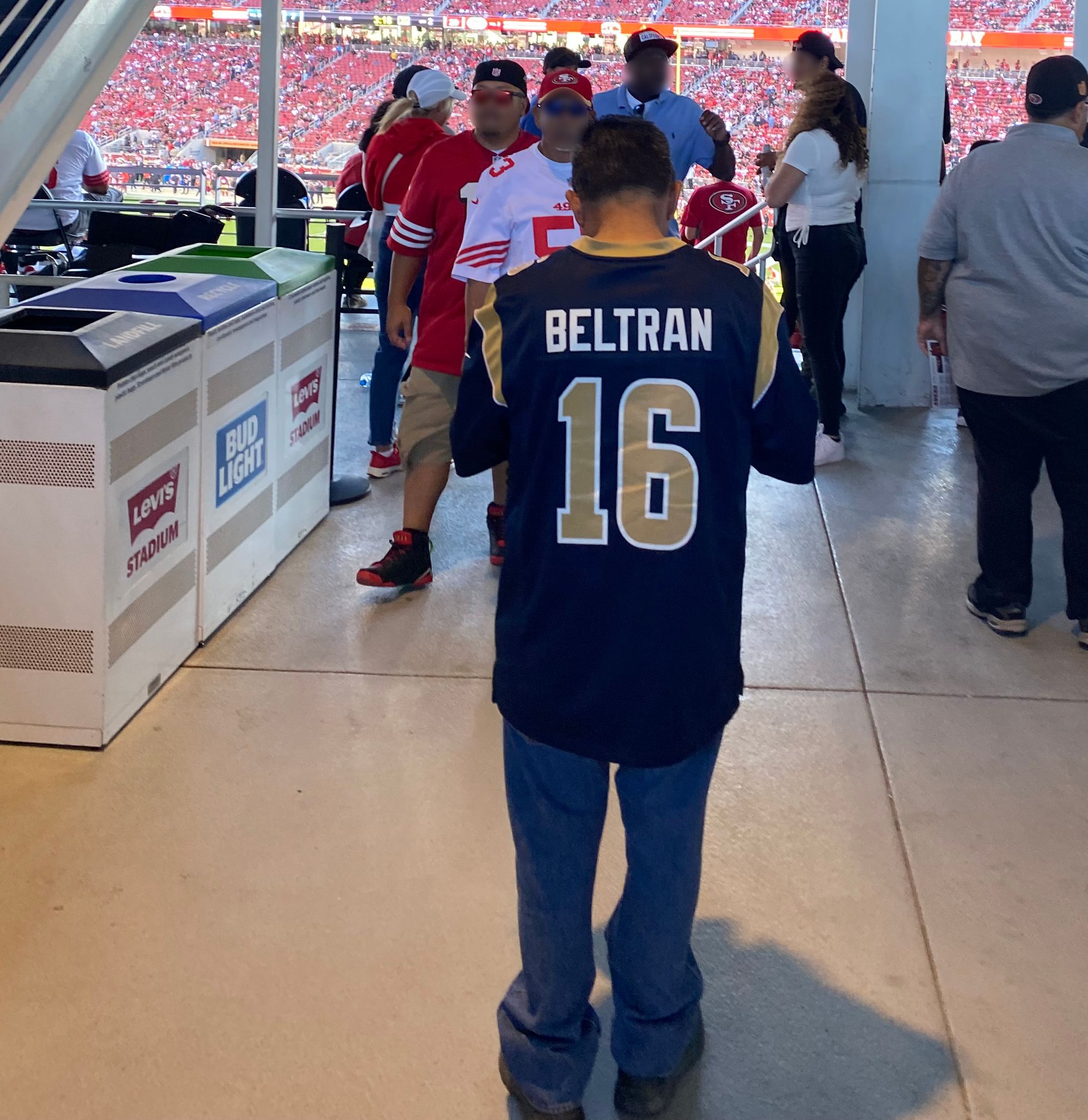 All of these are offensive in their own right, but especially the fugazi Michael Irvin double-star. As someone who owns a fake Irvin jersey, I'm good with going bootleg, but you can't wear this to a game the Cowboys aren't playing in.
I also want to point out how the guy in the Matt Ryan jersey decided to match it with his red, white, and black Nikes. Not only is that Falcons jersey one of the worst of all-time, but trying to get a fit off in it at an NFL preseason game is next-level nasty behavior. 40 hours community service to this man.
"I want everyone to know I like Tom Brady/I'm a Patriots fan" guy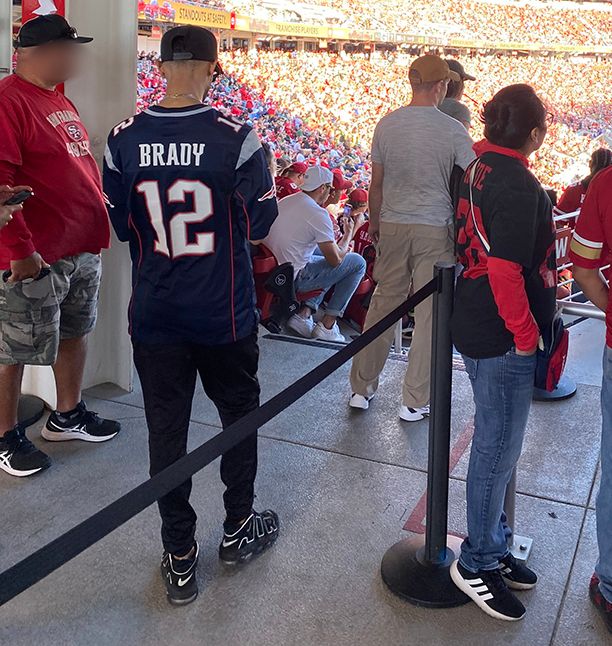 Over/under on the number of times this guy said the word "Rings," and "Jimmy G is my boy!!!" that night is 20.5.
Jerseys of retired players from other teams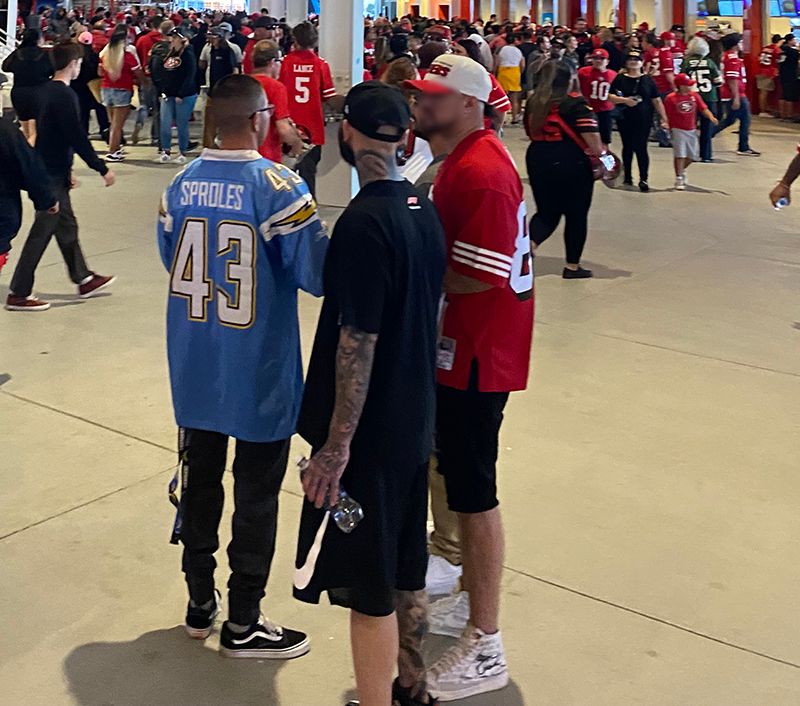 The only difference between these and the first two categories is novelty. You don't expect to see a gold Reggie Bush Saints or a Ricky Williams Dolphins out in public. They've got the shock value that an Alvin Kamara or Zeke Elliott jersey doesn't have in this situation, and they're at least good for a laugh. They're all fine jerseys in a vacuum, but it's still appalling to see them at a Niners-Packers game.
"Let's go Dubs!"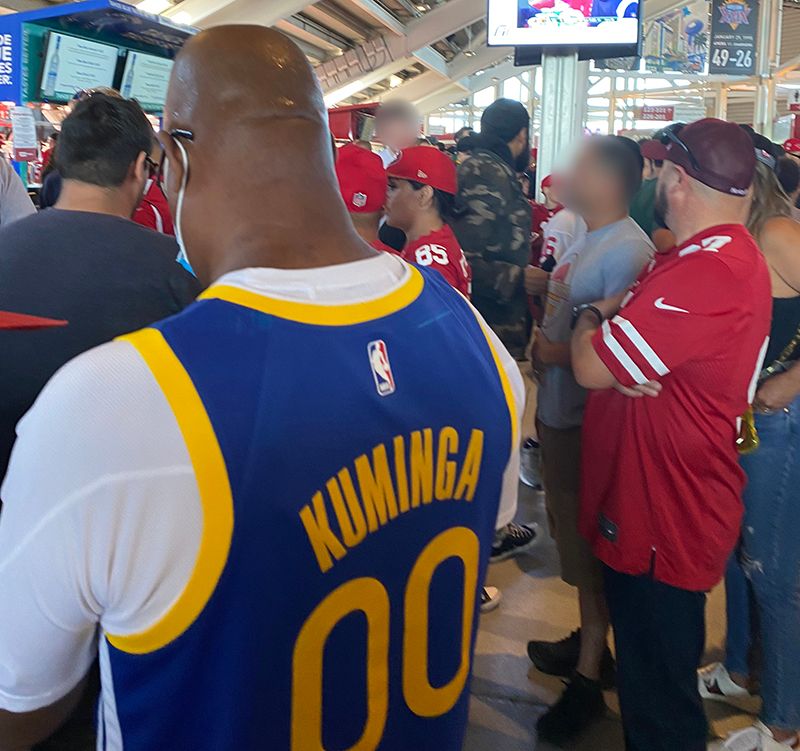 I'm honestly surprised I didn't see more Warriors jerseys. They just won the title, and no one out here is ever going to give you shit for rocking a Steph Curry. But a Johnathan Kuminga double-zero at a preseason NFL game? Sickening behavior. 20 hours community service.
The unicorn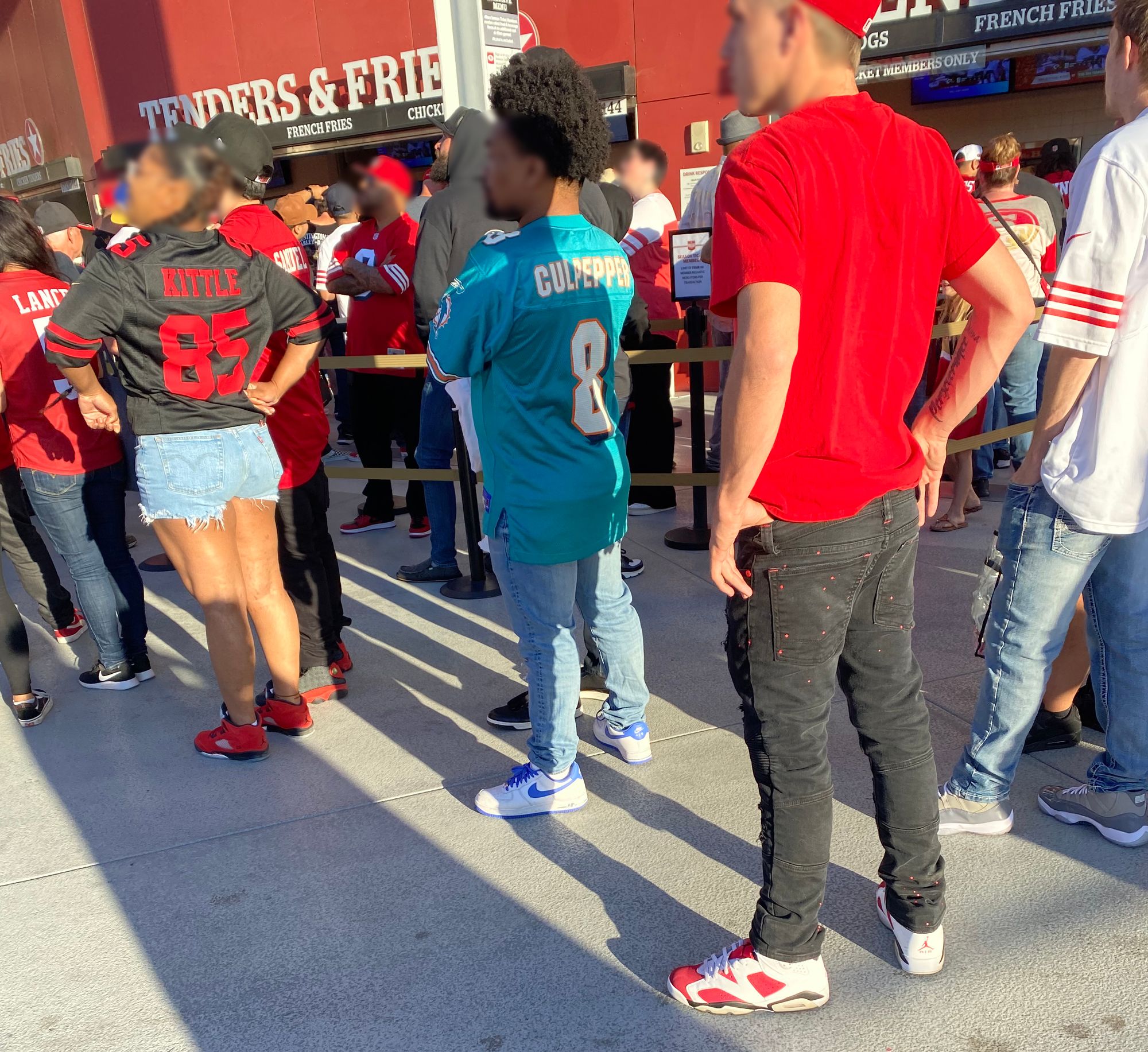 I'm not sure it's as rare as the Rod Woodson Niners jersey, but this Daunte Culpepper Dolphins is close. Culpepper played eight games for Nick Saban in 2006, before an acrimonious split with Miami prior to the 2007 season. This is one of those jerseys that was probably only available for purchase in a 4-5 month window of time, and the only way you're getting it now is Mercari or Ebay. I was ready to leave at halftime, and this jersey single-handedly gassed me up to stay until the end of the third. God bless this man, and god bless this all-time piece of aqua fabric.
What did Green Bay fans wear?
The Ahman Green was a hell of a pull, but Packers fans were pretty tame for the most part. Predictably, there were a lot of Aaron Rodgers/Clay Matthews/Davante Adams/Brett Favre's walking around, but the three David Bakhtiari's and multiple Ha Ha Clinton-Dix jerseys I saw were a nice change of pace. Honestly, I'm disappointed that Green Bay fans weren't more unhinged. I need to a Jimmy Graham or a Matt Flynn sighting next time.
What about the Niners faithful?
There were literally thousands of jerseys to choose from –And if I had to guess whose I saw the most it'd probably be Nick Bosa or George Kittle– but we'll break it down into different categories since there was so much to work with.
Personal Favorites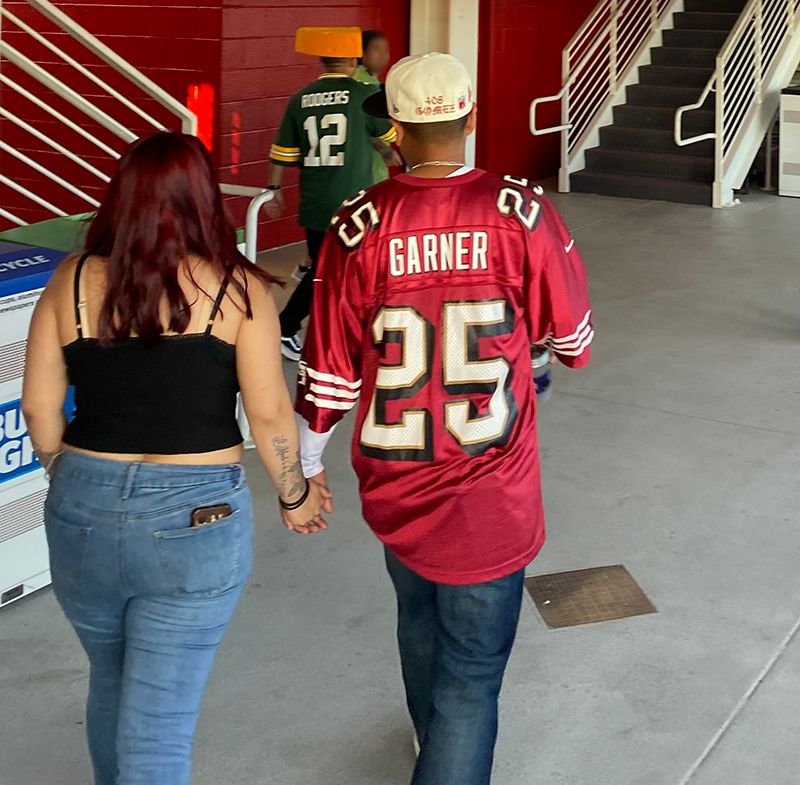 Charlie Garner played just two seasons in San Francisco, but made his only Pro Bowl as a Niner, and was one of the most underrated running backs of his era. This jersey has to be at least 20 years old, but still looks like it's in good condition, which I appreciate. The Kevan Barlow one looks like fashion/giveaway jersey, but I'm all for showing love to non-descript 2000s running backs. The late-90s/2000s Niners uniforms sucked, but both these jersey choices kick ass.
Stuff I never thought I'd see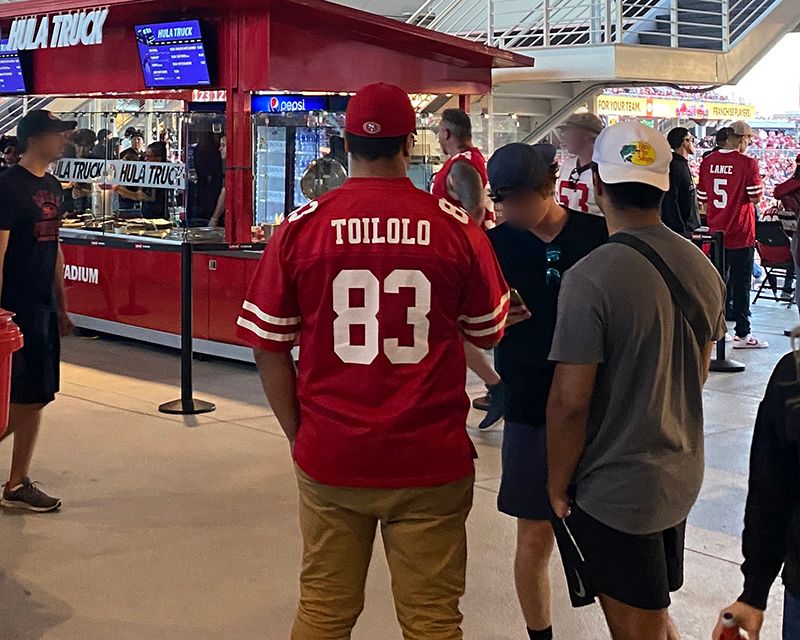 Levine Toilolo: Played 13 games in his lone season as a Niner in 2019. two catches, 10 yards. This is possibly the only Levine Toilolo Niners jersey on Earth.
Kendall Hunter: A fourth-round pick in 2011, Hunter had 1,202 yards and seven TDs in three seasons. Low-key it was kinda disconcerting to see this in the wild.
Antoine Bethea: A quality player who was also a key contributor to the Colts' 2006 Super Bowl run. He spent 3 seasons in red and gold, and even made a Pro Bowl in one of them. This jersey was so jarring when I saw it because I have no recollection of him playing there, but it makes a bit more sense knowing that he was at least a good piece to their defense in that era.
Pierre Garçon: Speaking of quality players I don't remember in San Francisco. Garçon played his last two seasons in The Bay, and I can't imagine there are too many of his jerseys floating around here. No shots at Pierre because he was that dude, but it's amazing what hardcore fans will buy.
Mohamed Sanu Sr.: Played 11 games as a Niner the past two seasons. 16 catches, 186 yards. Maybe this guy is a Rutgers fan?
Randy Moss: A true classic. It's still weird that this is where the second best receiver ever finished his career. I saw one of these at the 2018 game I went to, and I'm sure they're a cult classic among Niners jersey fanatics. Also, he made more plays as a Niner than I remember.
Miscellaneous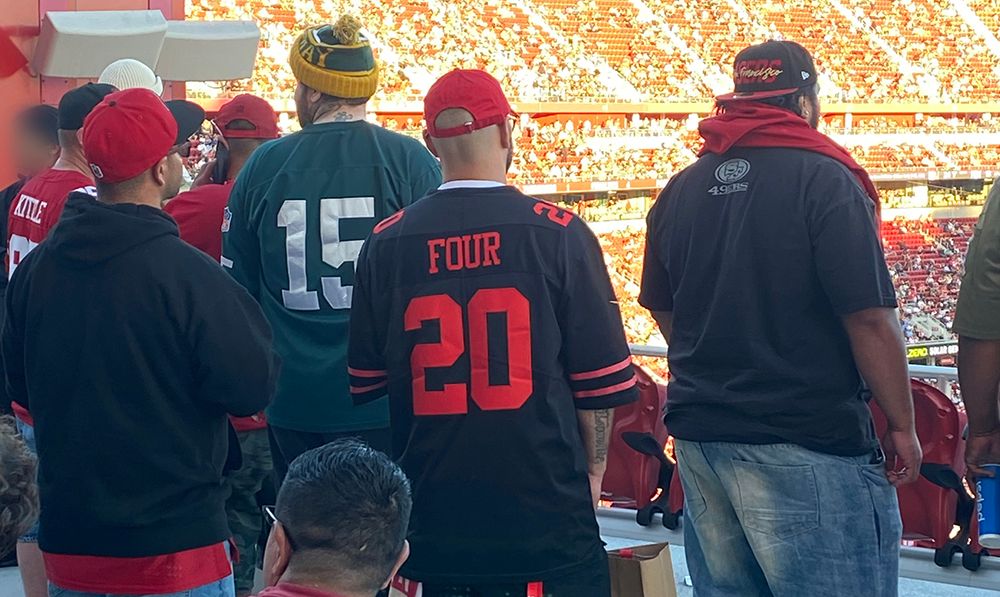 This is what happens when you let fans customize jerseys.
The jersey where I knew it was time to go home when I saw it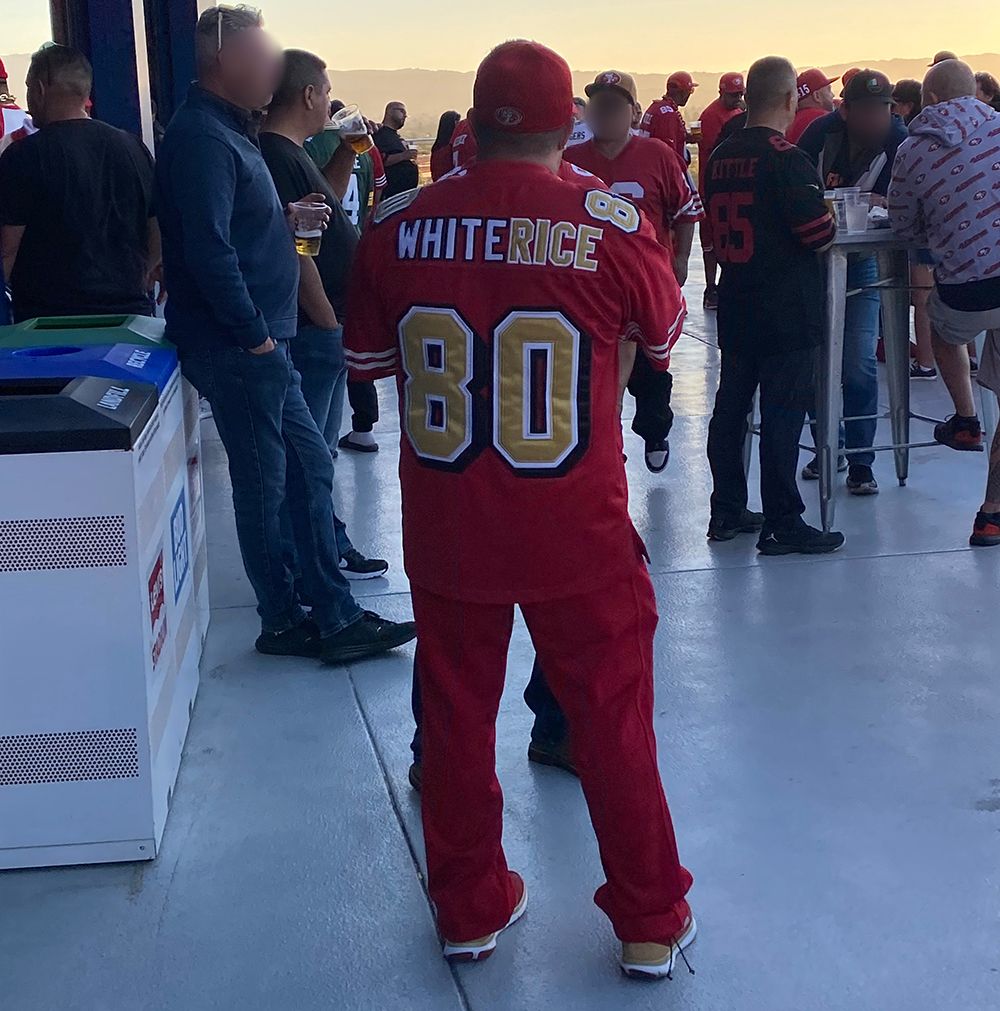 I don't know, and I wish I would've asked. It's the most ridiculous jersey I've seen since I went to LA for the Colorado-USC game in 2018:
I won't ever recommend going to an NFL preseason game –or a regular season game for that matter– but if you do, take some time to walk around and look at the jerseys. You never know what you might find, and chances are it's going to be some of the wildest shit you've ever seen.