Uniforms
I went to an NFL preseason game hunting for obscure jerseys. Here's what I found (Vol. 2)
The tradition continues.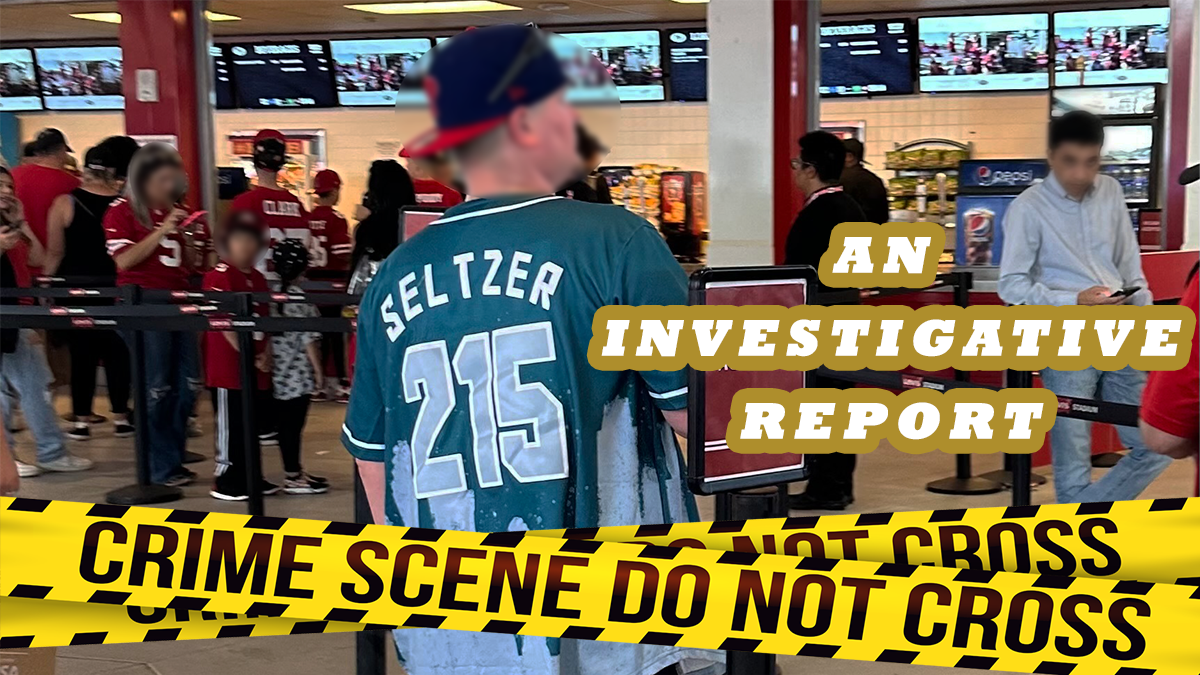 For those reading on e-mail: click 'view in browser' to see the full contents of today's post
---
It's that time again. For the third time, I dedicated a full evening to attending a 49ers preseason game with the sole purpose of scouring the concourses for the most random jerseys I could find. Last year's Niners-Packers game provided some of the wildest stuff I've ever seen, and set a high bar for Sunday's Niners-Broncos matchup. Here's the damage:
Old Niners Jerseys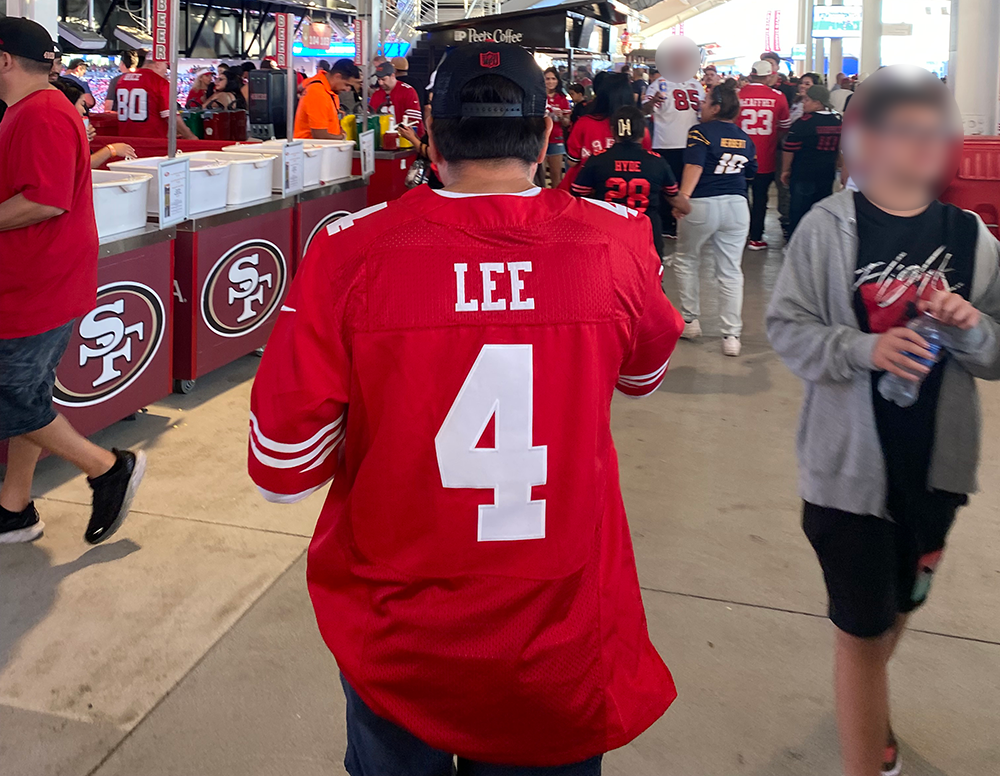 Andy Lee: There can't be more than two or three of these that exist. Lee is probably the best punter in Niners history, making three Pro Bowls with three First-Team All-Pro selections in his ten seasons (2004-14) in San Francisco. This is what obscure jersey hunting is all about.
Dashon Goldson: I'm not shocked to see this, because Goldson was a pretty good player –he made two Pro Bowls and an All-Pro team during his Niners run (2007-12)– but it's still impressive to see one 11 years after the fact.
Jeff Garcia: Honestly surprised there weren't a few more
Jim Plunkett: I've been struggling to process this one all day. Plunkett is obviously an important figure in Bay Area sports given that he's a Stanford legend and played for both the Niners and the Raiders. But what would compel someone to get his Niners jersey? He had a 22-30 TD-INT ratio in his two years, the team was 11-15 with him as a starter, and everyone knows him for winning two Super Bowls –and a Super Bowl MVP– as a Raider. Putting all that aside, rocking a '16' 49ers jersey that isn't Joe Montana's is a powerful play.
Nate Clements: Maybe the best jersey I saw all day, all things considered. Clements was a hell of a player his first six NFL seasons in Buffalo, and came to San Francisco in 2007 by signing the largest deal for a defender in league history at the time. I'm an Ohio State fan who also happens to hate the Niners so it's no skin off my ass, but Clements didn't exactly live up to fans' expectations. He played four up and down seasons here before being cut in 2011. The backstory of his time as a Niner, plus the immaculate condition of the jersey itself make it a classic random jersey find.
Ken Norton: Noted Dallas Cowboys traitor.
Tom Rathman: We respect fullbacks on this website.
Custom Niners Jerseys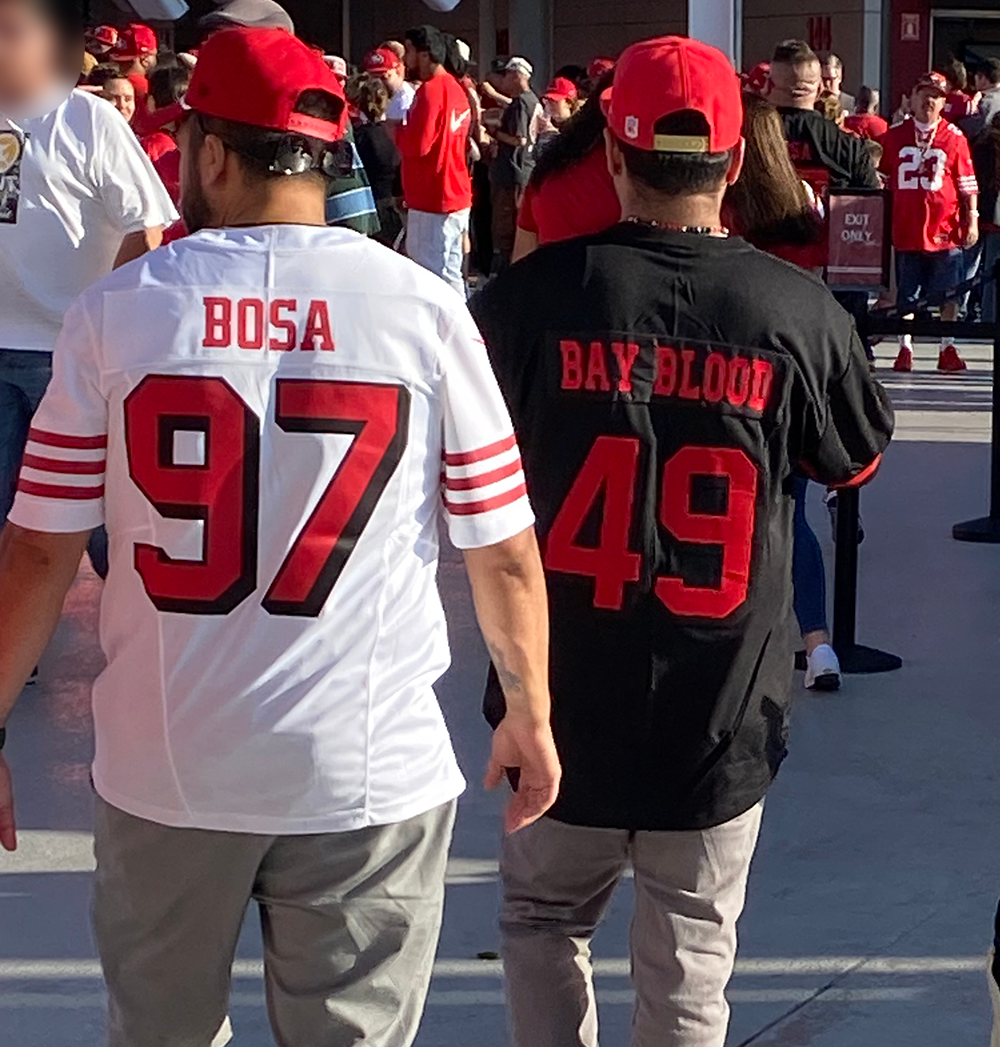 Honestly, I'm worried that I didn't see more of these. The custom jersey is a staple of Niner fandom, but none of the above match up with "White Rice" guy from last year: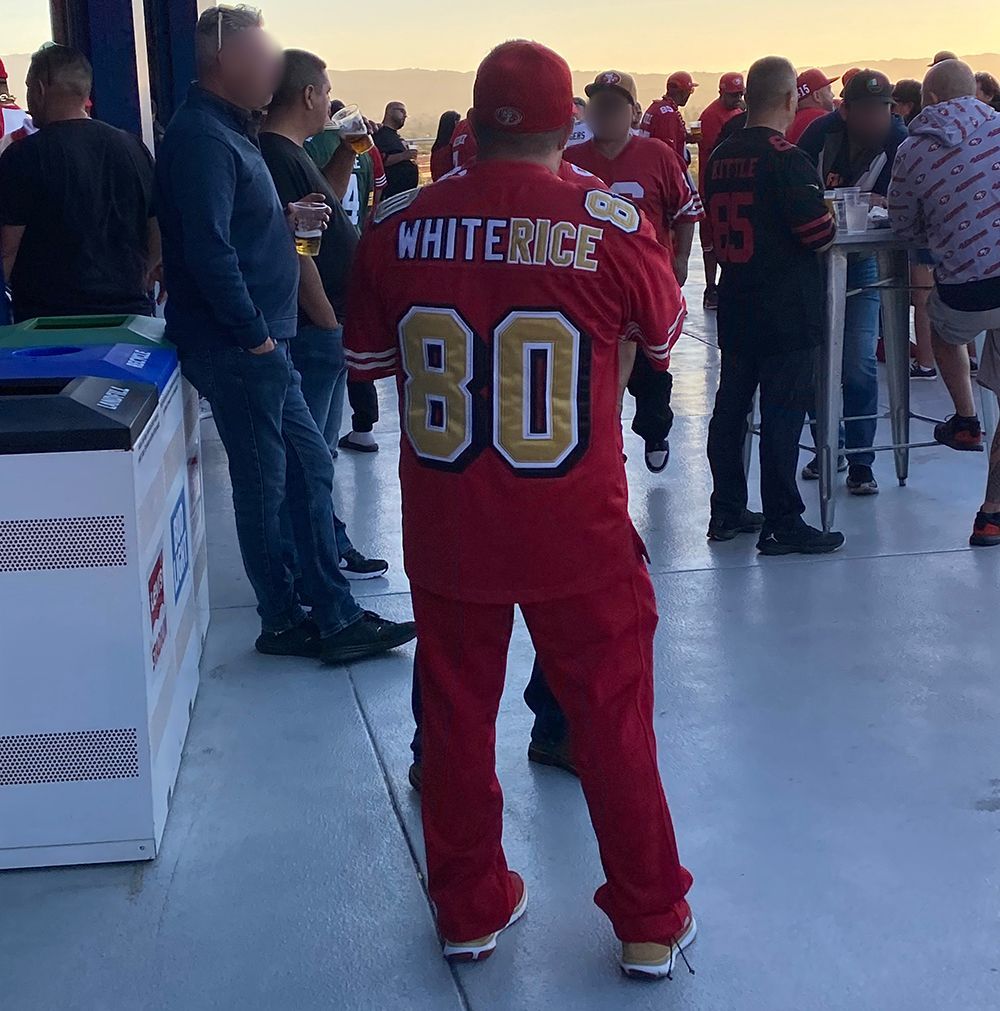 Broncos Jerseys
I'm disappointed. Cowboys and Packers fans set an unrealistic standard in the two other preseason games I went to, and Broncos fans let me down with their effort. There were way too many Peyton Manning, Russell Wilson, John Elway, and Von Miller sightings. There were some highlights, though:
Salute to Service John Elway: A true sicko. This guy not only wore a Salute to Service John Elway, but had the audacity match it with the hat and Jordan 4's with orange laces. If you want evidence that the NFL is growing fans in a laboratory, here you go.
Paxton Lynch: There's something magical about wear the jersey of a first-rounder who completely bombed for your franchise.
TJ Ward: This is the type of jersey I love to see. It's not technically "obscure" –Ward was a good player for the Broncos– but on a team that had Peyton Manning, Demaryius Thomas, Von Miller, DeMarcus Ware, Aqib Talib, and Chris Harris Jr., you really had to have rocked with TJ Ward to cop it.
Note: It's not shocking that the jersey of a current Bronco I saw the most was Russell Wilson, but I was pleasantly surprised at how many Patrick Surtain II's there were.
Ben Dinucci's Family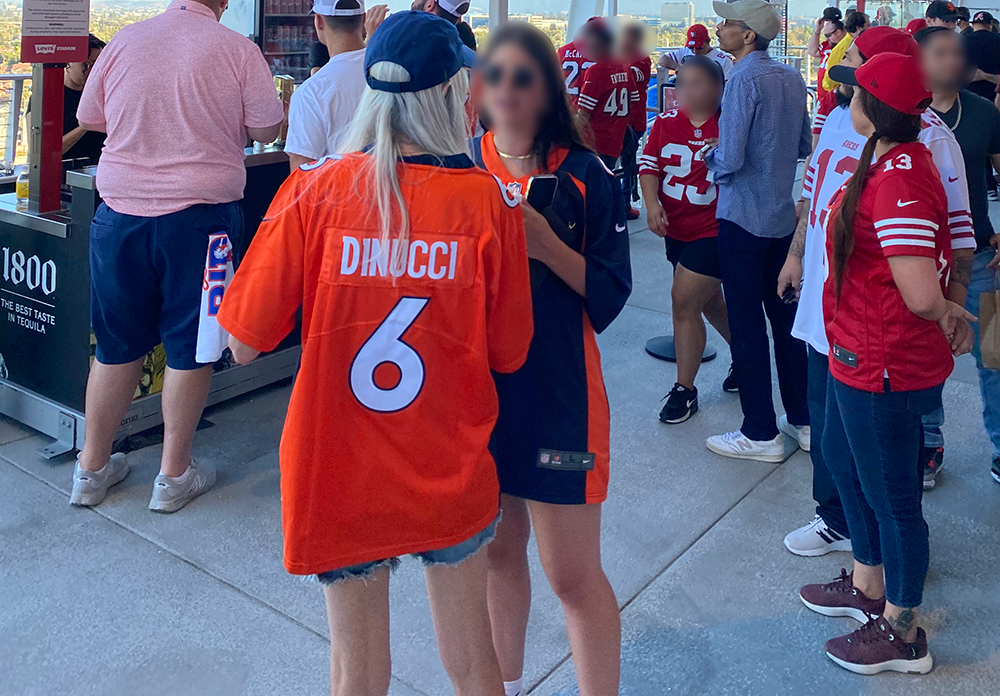 I can't confirm that these people are related to Gucci Dinucci, but there's no way three of his jerseys are randomly out in the wild like this. I don't mean that as a shot, either - it just seems unlikely. He's only been in Denver for three months and is in a battle to make the team as Russell Wilson's backup. I love seeing this kind of support though, and hope he makes the team because every fan deserves to see a Ben Dinucci jersey in public. These are the kind of jerseys that become legendary in 10 years.
Raiders Fans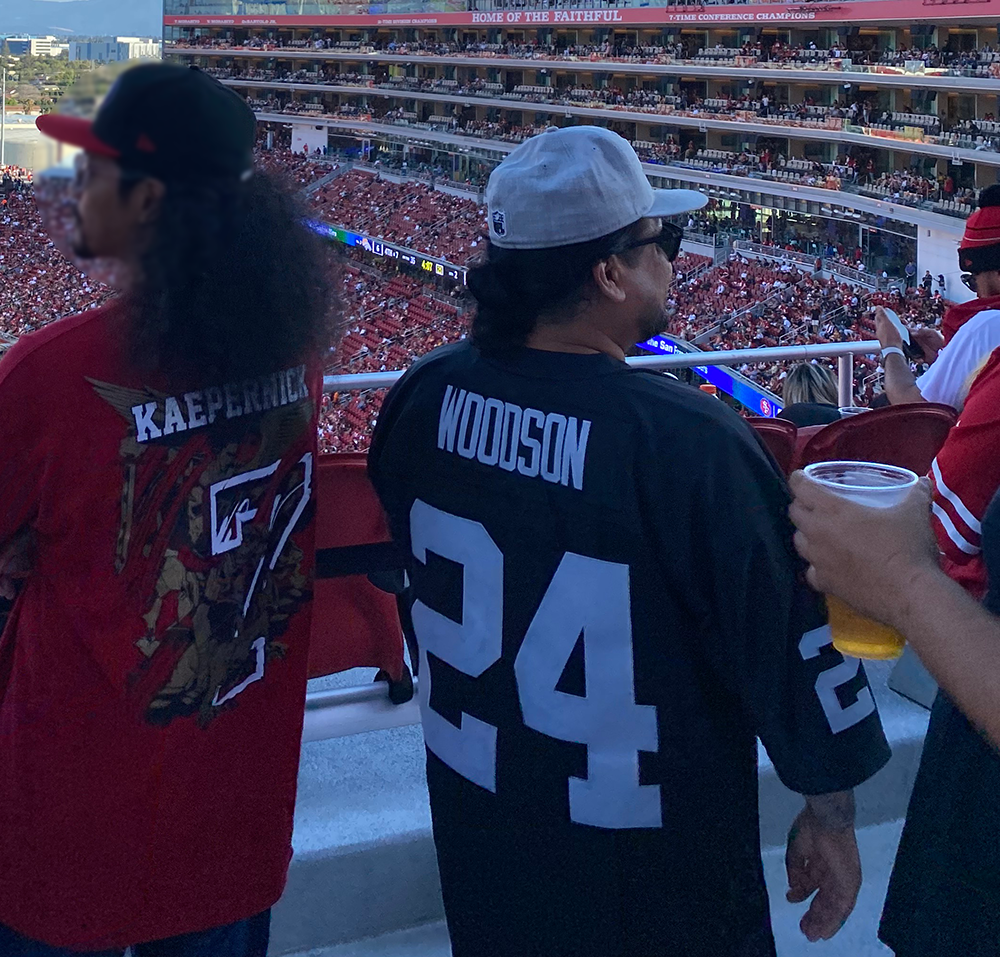 Of course. It wouldn't be a Bay Area sporting event without Raiders fans letting you know they exist. They get bonus points here too because the Niners playing the Broncos means both fanbases hate them. Charles Woodson was by far the most popular –I saw eight or nine Woodson's total– and Davante Adams was the most popular current player. The Ken Stabler one is fine in a vacuum until you realize that it's a current day Nike jersey. Begging this guy to grow up a get a real throwback. Sadly, I didn't see any silver and black Jimmy G's.
Other NFL Teams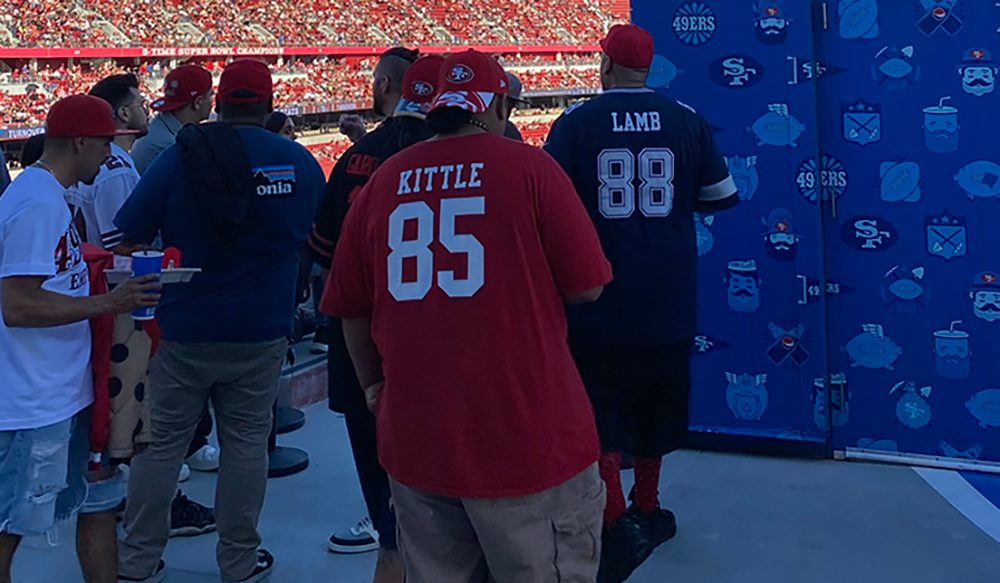 My strongest sports take: Wearing the jersey of a team who isn't playing at the sporting event you're at should cost you 30 hours community service. We get it, dude. You root for a different team. Congratulations.
Cowboys fans: Those were the only two photos I took, but I saw at least 10 Cowboys jerseys. Much like Raiders fans, they always have to remind you they exist. (I say this as a Cowboys fan myself)
Justin Fields: The surprise of the night. Outside of Niners/Broncos, Fields was by far the most popular player jersey I saw. I counted six of them!
Wes Welker: There's always gotta be at least one Patriots guy at every NFL stadium. Those are the rules.
Russell Wilson Seahawks: The guy in front of the Ken Norton is wearing a Wilson Seahawks jersey with a Seawhawks hat and what appears to be a neon green Seahawks necklace. Given the circumstances, maybe my most hated jersey of the night. It checks off the criteria of not being either team that's playing, being a division rival of the home team, and the guy who's now the current starting QB of the road team.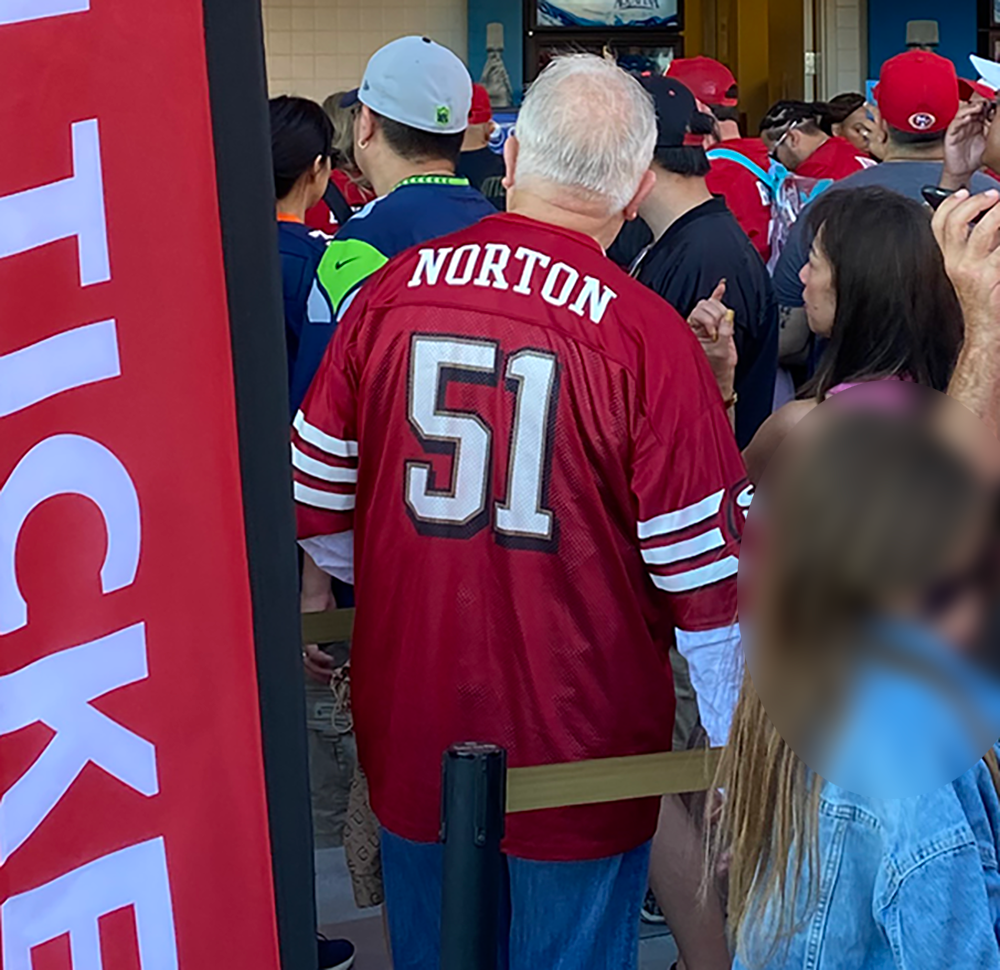 College Jerseys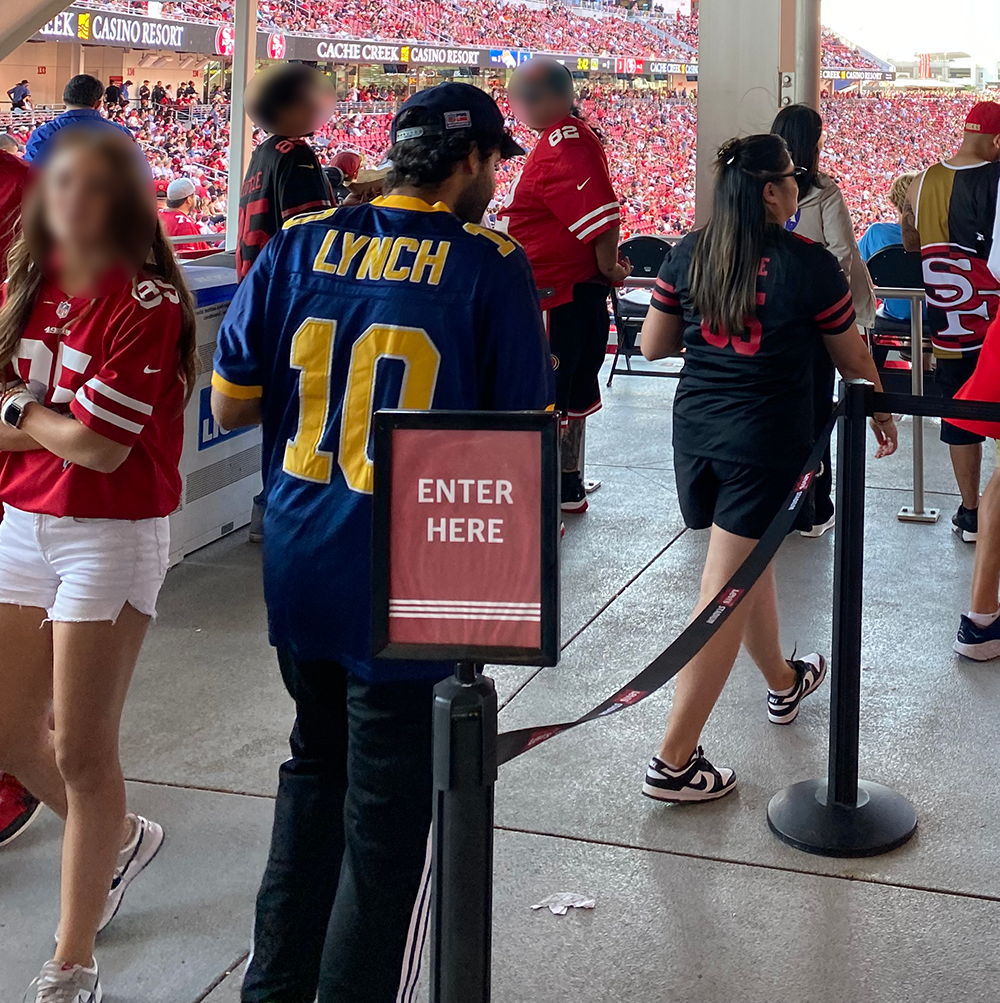 Marshawn Lynch Cal: Iffy, but it at least makes sense because it's local.
Christian McCaffrey Stanford: Local college, guy now plays for local team - makes even more sense!
Air Force Red Tails alternate: One of the most random jerseys I've ever seen. Air Force wore these for their 2020 game vs. Navy, and I can't believe I saw one out in public. I wish I would've asked to shake this guy's hand.
Jersey Fouls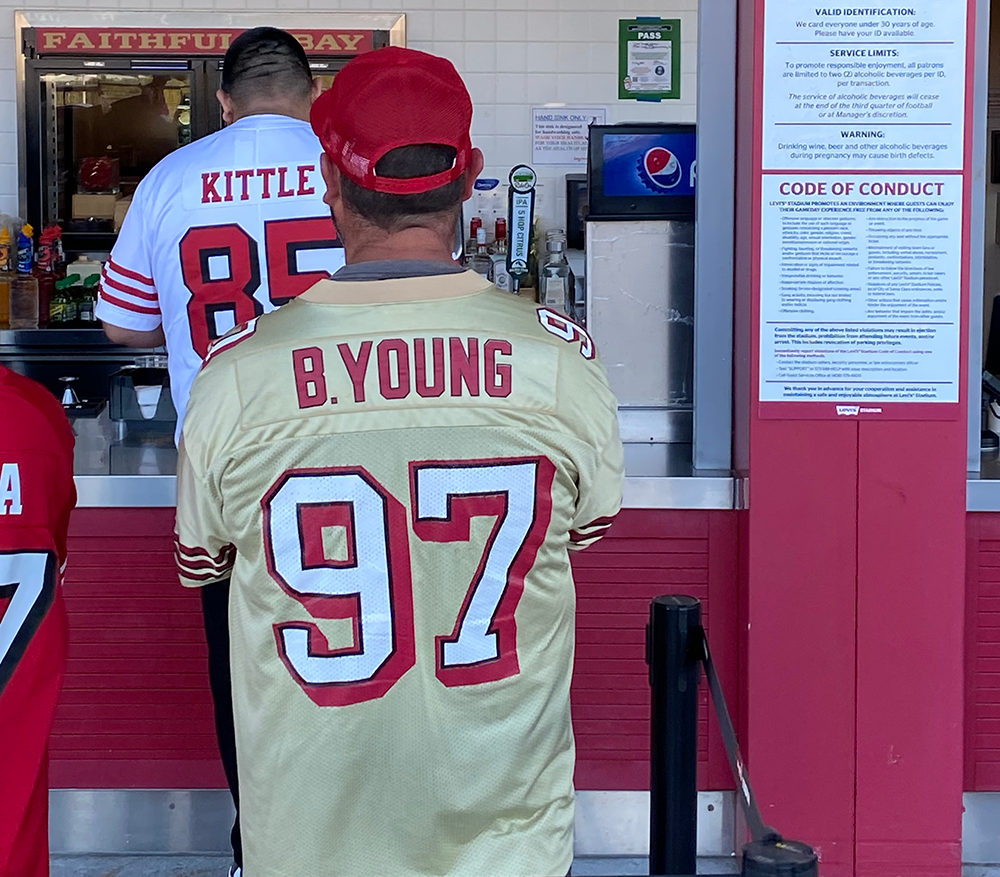 Outside of wearing another team's jersey, this is the type of behavior that agitates me the most. I could've added 50-60 more examples of jerseys like these, but you're looking at the worst offenders right here. Put on your big boy pants and buy a real jersey, brothers.
What is this?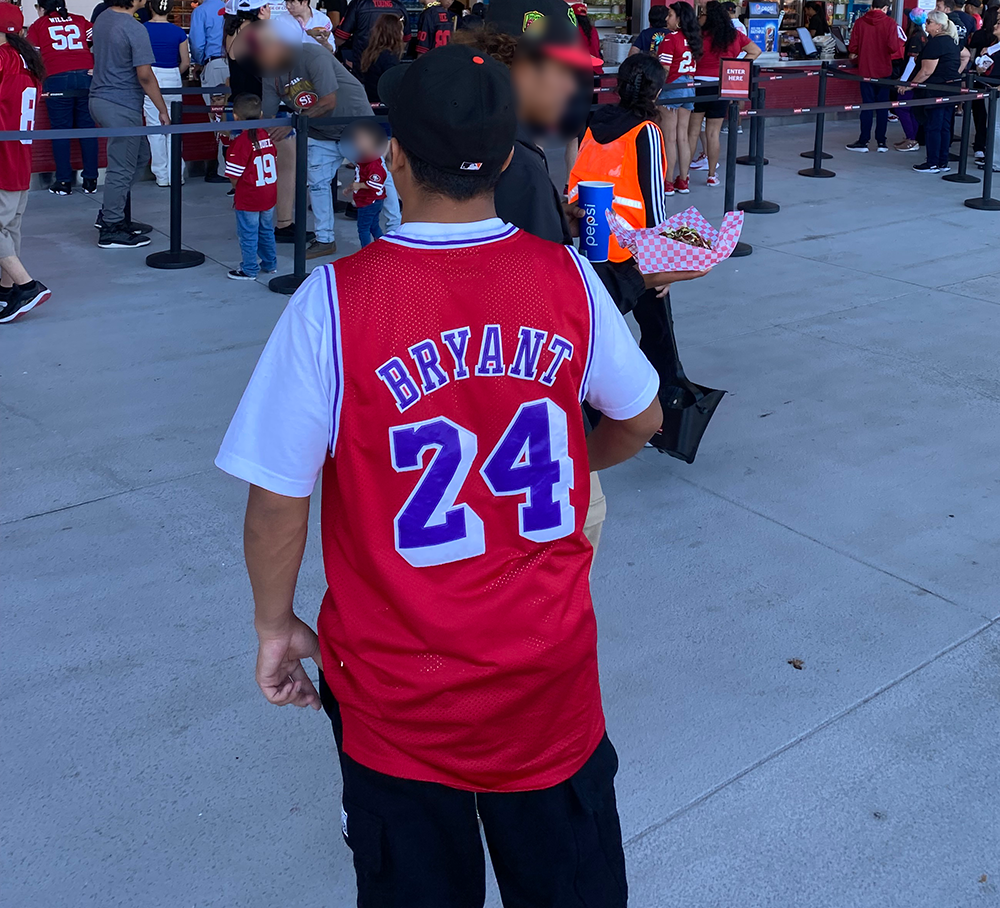 Kobe: No idea. Add in the Giants hat and you get the most down-bad jersey fit I saw all night, which is saying something. Disgraceful stuff.
Seltzer: I had this one sent to me from an unnamed source. I didn't see the front of the jersey, so I'm guessing that it's Eagles-related since 215 is a Pennsylvania area code and he's wearing a Phillies hat. I really can't stress enough how different a breed NFL fans are.
---
There you have it. That's what happens when you spend 3 hours walking around the upper and lower concourses of an NFL preseason game looking for random jerseys. Thanks for reading! If you liked today's post, make sure to share it and subscribe for more great content: