Welcome to "Throwback Player of the Week," where I drop a retrospective (sometimes), and highlights (always) on some of my favorite players in CFB history. This week: Former Texas A&M RB/Return Specialist Dante Hall.
Last week: Former USC WR Mike Williams.
Whenever I cut a player's throwback highlights for my YouTube channel, I end up wondering whether they would shine in today's game. Ed Reed? Check. Dan Marino? Would be absolutely disgusting. Peter Warrick? Probably unstoppable with a creative offensive coordinator. I didn't cut his highlights, but imagine Michael Vick operating a top college offense today. (If you're really old: Lance Alworth would've cooked DBs out of the slot.) All those guys were awesome their eras, but they'd also kick ass in 2022. After cutting Dante Hall's Texas A&M highlights, I can say for certain that he's in the same class.
(For people viewing on their email, this is the link to his career highlights)
Before he became a sensation with the Kansas City Chiefs as a wide receiver/returner in the early 2000s, Hall starred as a running back/returner in College Station from 1996-1999. In his three-and-a-half seasons, Hall racked up 4,706 all-purpose yards (fourth in school history) and also had a 1,000 yard rushing season in 1998.
Those are pretty good career numbers, but if we're being honest, they don't scream, "college football legend." So then why does he belong in the same class as Marino, Vick, Reed, etc.? Because he's already next to legends like Barry Sanders and Warrick as one of the most elusive players ever: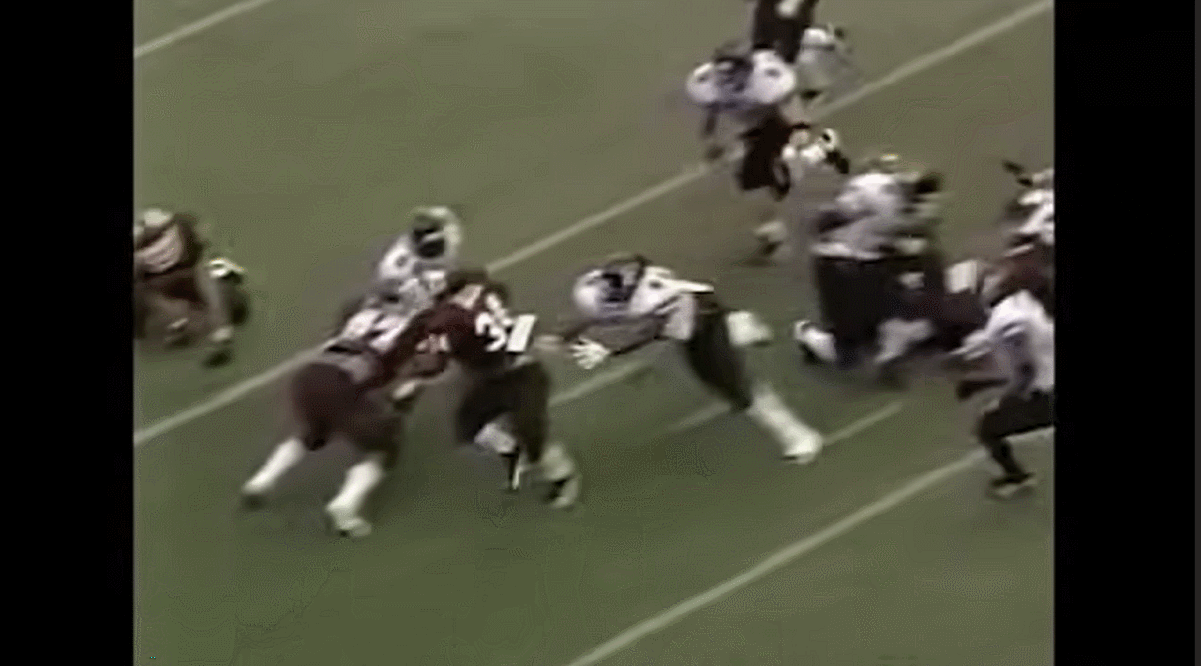 This dude broke so many ankles that he eventually became known as "The Human Joystick." (I still like "X-Factor" more.)
(For people viewing on email, here's a link to the play starting at 5:26)
Sometimes he wasn't even bound by gravity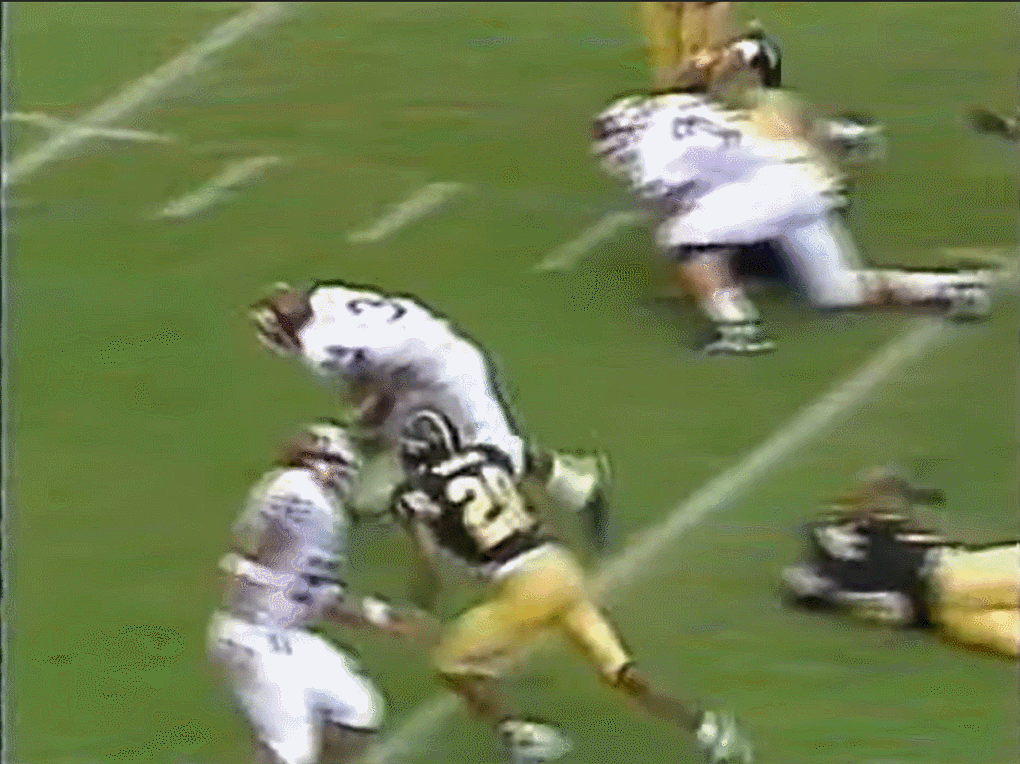 Hall was one of those players –like Vick– who came around 10-12 years too early. Vick had to conform his abilities to an era of quarterbacking where snaps under center, five/seven step drops, and rigid offense schemes limited the unhinged creativity he could bring to an offense. Hall was forced to play as a traditional running back, which in the 90s meant running into defenses more crowded than a rollercoaster tycoon walking path: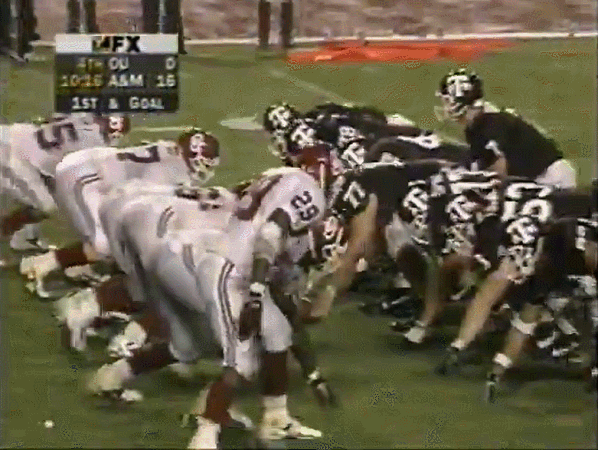 I scrubbed through about 40 of his games at A&M for this highlight reel, and I can't tell you how many times I saw them run Hall up the middle against eight, nine, even 10-man defensive fronts. If you scroll back up to his stats, you'll notice that his yards per carry fell off a cliff in 1998, partly due to a massive increase in carries, but also because he was a 5'9, 180-pound running back being sent into brick walls constantly: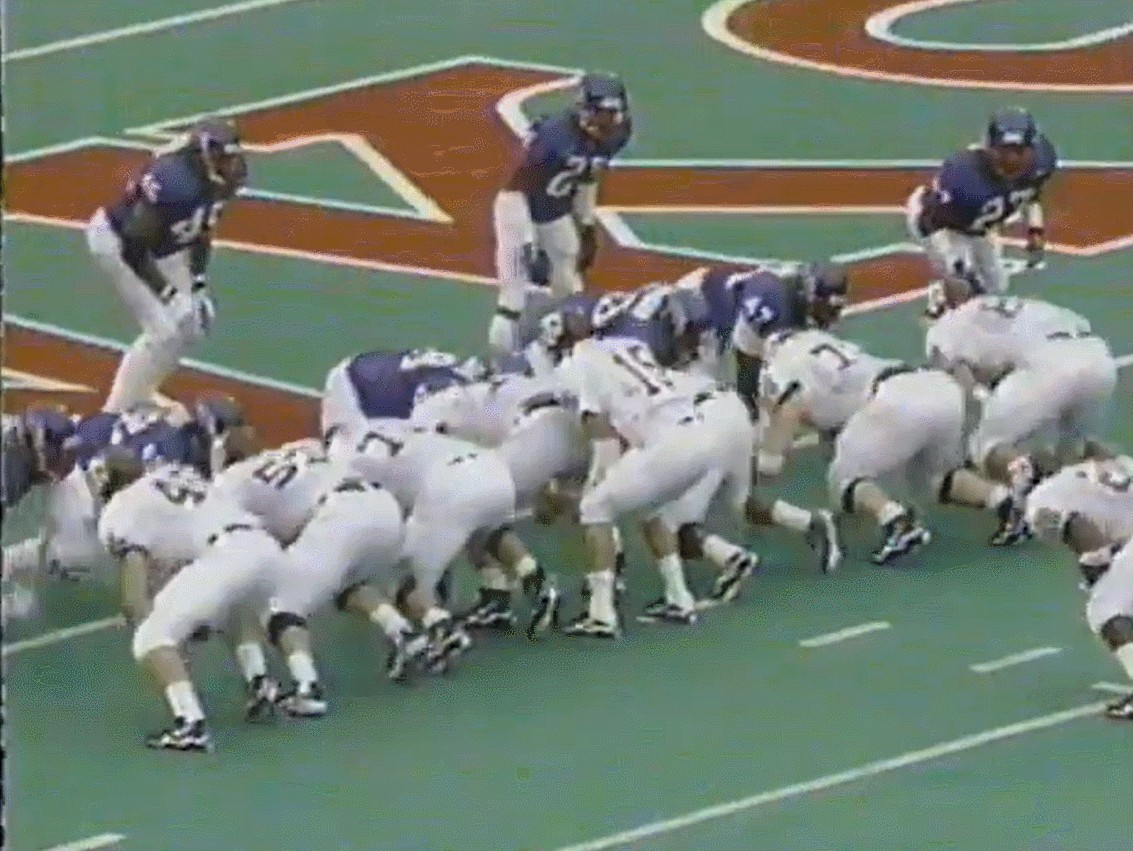 This was the next play: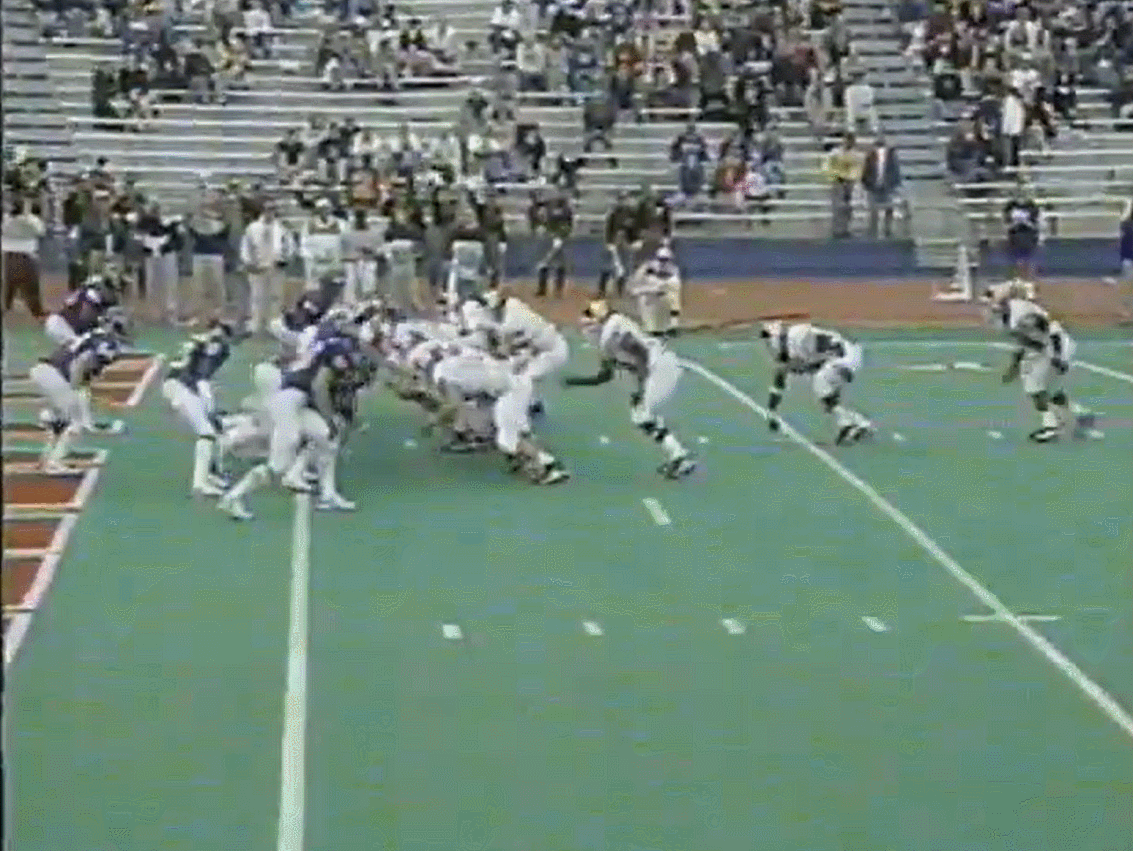 The most creative thing A&M did with him was calling an occasional toss or speed option to get him outside. He didn't even have a season with over 10 catches! Nothing explains pre-2000s college football offenses better than having one of the shiftiest players of all-time and using him like he's Ron Dayne. Downright criminal stuff from the A&M coaching staff.
Despite how he was used, Hall is still in the top-tier of most dynamic players ever, and his highlight reel was a hell of a lot of fun to cut. His A&M career unfortunately ended on a sour note in 1999 when he was kicked off the team during an injury-ravaged season, but that relationship appears to have mended with his 2021 induction into the Texas A&M Athletics Hall of Fame.
Dante Hall deserves the football time machine, and he belongs in the same class as some of the most legendary players ever. No, the numbers aren't jaw-dropping, but Hall's style of play transcends eras. He was the kind of player who wouldn't just fit in to how offensive football is played in 2022, but thrive as one of the most creative and explosive playmakers in the game. The fact that he still excelled then, in spite of the game not being built for players like him at the time is a testament to how special he was.