(I always have to put this at the top: For the best viewing experience, you should click "view online" if you're reading this on email.)
Welcome to "Throwback Player of the Week," where I drop a retrospective (sometimes), and highlights (always) on some of my favorite players in CFB history. This week: Former Ohio State RB Maurice Clarett.
Last TPOW: Texas RB Jamaal Charles
---
Every now and then I'll get a YouTube notification that someone left a comment on my Maurice Clarett video. Usually, it looks like this: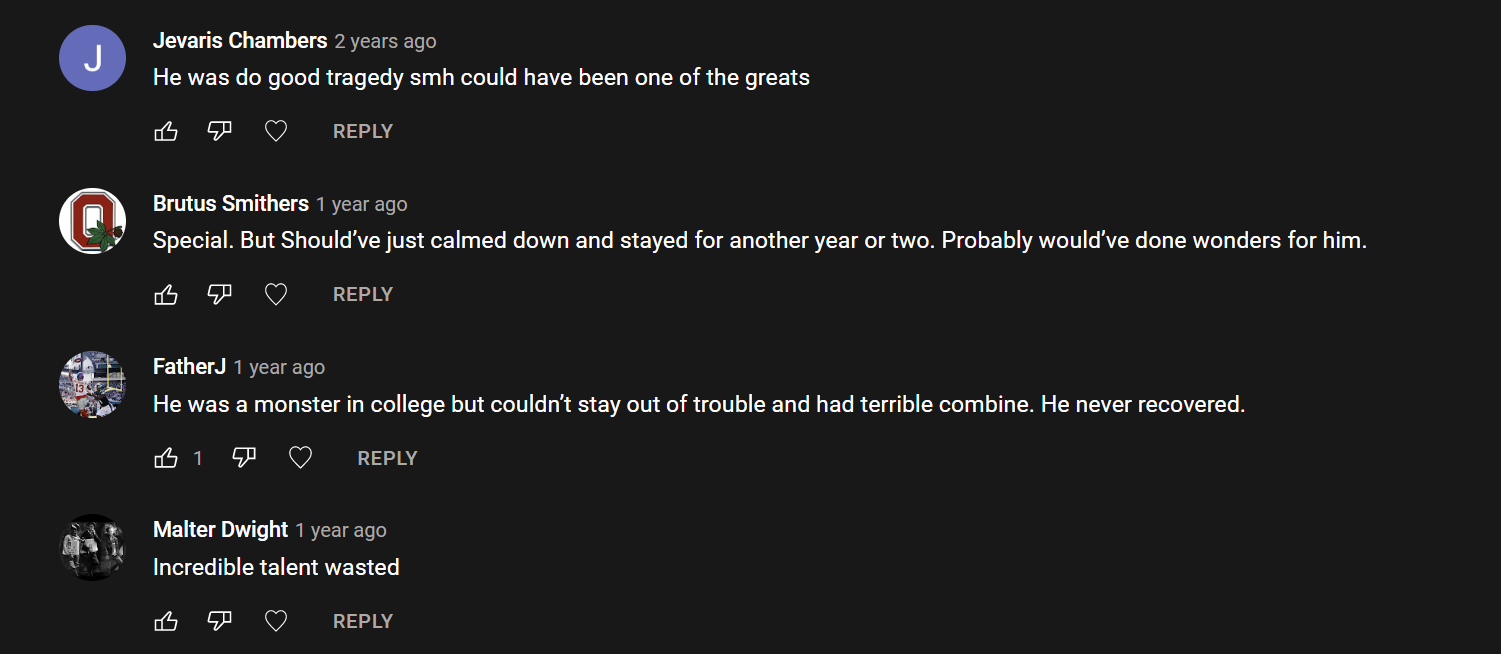 This isn't unique to him. It's the same for my Justin Blackmon video, and it's usually how the general public talks about any special athlete who's flamed out of their sport.
"What a waste of talent."
"He had so much potential."
"It's a shame he threw it all away."
I'm not going to do that here. What happened to Clarett after Ohio State won the 2002 National Championship is already well documented, and I'm not going to add my spin to another 'what could've been' piece about him. This series is about giving out flowers, and appreciating the journey these players take. Clarett's is one with a lot of twists and turns.
If you follow along with him today, you'll see that he spends a lot of time public speaking, and running The Red Zone, an agency that provides mental health counseling, case management and substance abuse services to people in Youngstown, Ohio. This ESPN article from May 2020 is a good look at where he's at now, and how he's trying to help young athletes –and people in general– avoid the same route that he took. Regardless of what happened to his football career, that doesn't sound like someone who wasted their talent.
And just to avoid the inevitable "Ohio State fan writes puff piece about former Ohio State player who did bad things" charges: I don't know Maurice Clarett. I've never had an interaction with him, and I'm not trying to act like he's a saint now, or that I can vouch for any of the changes he has or hasn't made to his life based off his social media or a single article. There's no incentive for me to big-up him here out of nowhere. I just appreciate seeing the positive shit it looks like he's doing now, and I'm rooting for him to have success in life. Maurice Clarett isn't –and shouldn't be– solely defined by what he was as a football player, and neither should any other athlete. I think it's important for all of us –myself included– to remind ourselves of that sometimes.
---
(Here's the link to his highlights for those viewing on email)
On the field, I don't think people recognize just how absurd Clarett's 2002 was. He was one of the most hyped Ohio State freshman ever, and somehow obliterated every expectation. He was the first true freshman Ohio State running back to start a season opener since the 1940's, and all he did was run for 175 yards and three touchdowns against Texas Tech. He never let up, either. He ran for 230 against Washington State two weeks later, and despite missing three full games –and being limited in the last four of the season with a shoulder injury– he ran for over 1,200 yards and 18 total touchdowns on the year: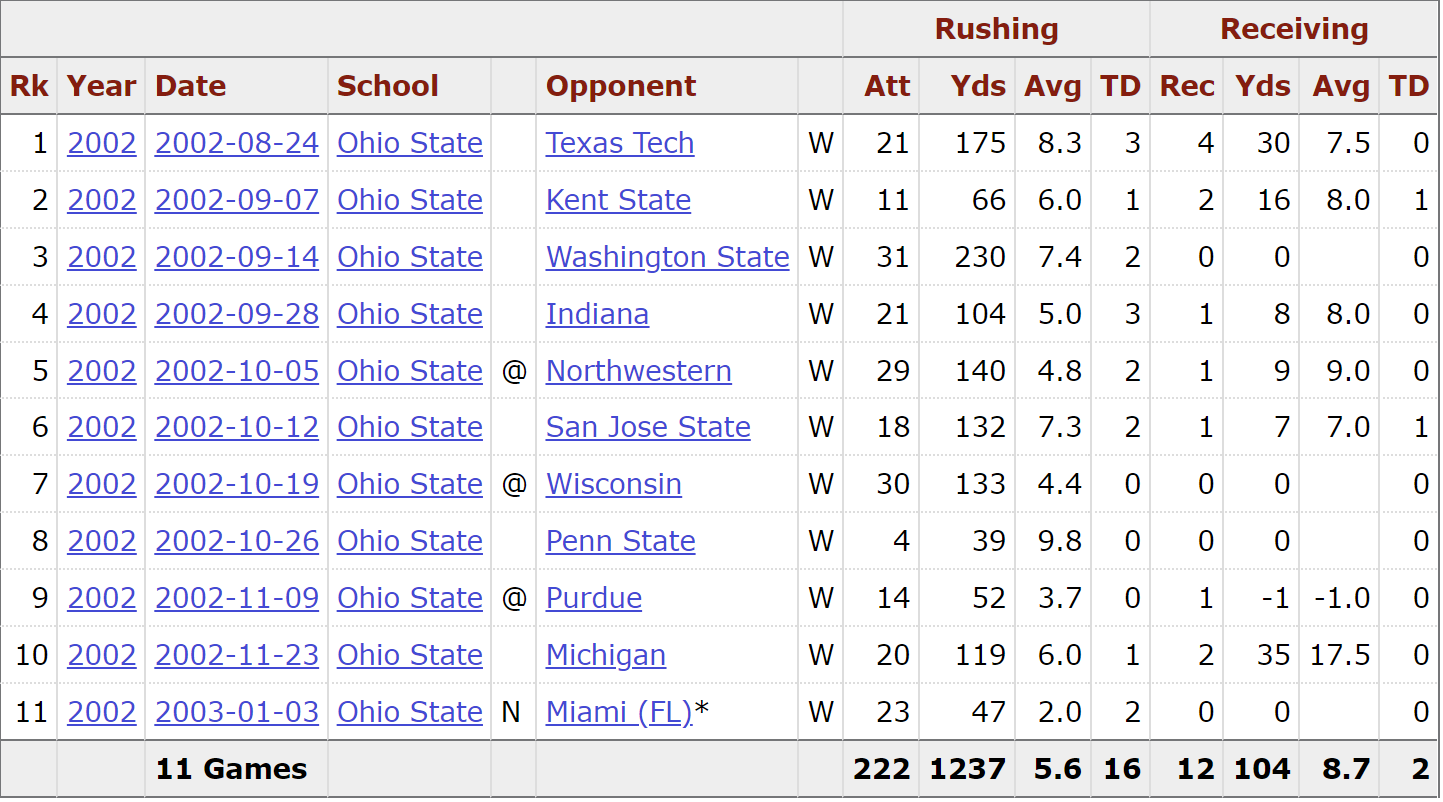 I don't even know how to accurately describe his style, because he could do it all.
He had the speed to run past defenders: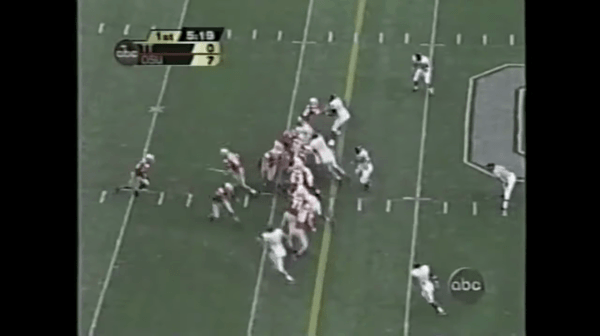 The power to run through them: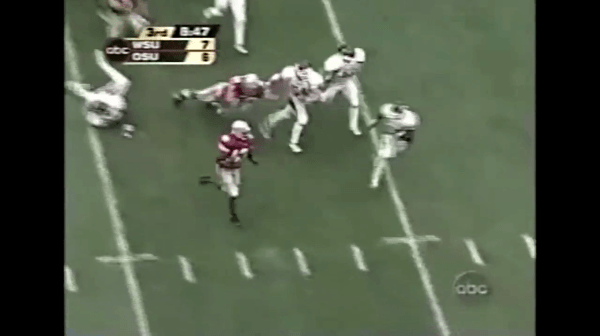 And some surprising agility, with vision you'd expect from an NFL running back: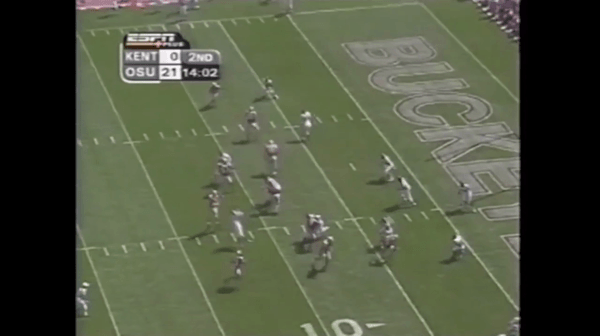 But it wasn't just pure talent that made him great. Even as a freshman, his awareness was top-notch. His strip on Sean Taylor in the national championship game is probably his best play, and one of the most impactful in Ohio State history. He could affect the game in so many ways, and that 2002 team –which already had some sort of deity in its corner– felt like it could never lose with him in the lineup. It's was a fitting end to the 2002 season that his final carry as a Buckeye not only ended up being the winning touchdown in the title game, but also showcased everything that made him special: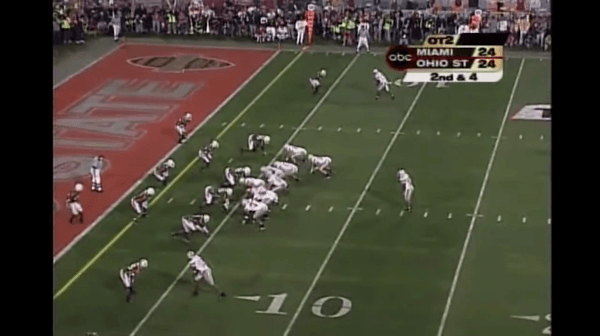 ---
The alternate universe where things don't go wrong for Clarett off the field is awesome to think about. He stays for two more years, and probably sets most of the school rushing records. The 2003 team has a great shot at winning back-to-back national titles with him, given that they went 11-2 without him. He's eventually a first-round pick, and has a great NFL career. The list goes on. But in the universe we live in, none of that stuff happened.
Maybe things had to happen the way they actually did for Clarett to find his true calling and potential in life. We never got to see any more special moments on the field, but if he takes the lessons he learned, and helps today's athletes avoid something similar? That definitely isn't wasted talent or a tragedy. It's a success story that goes beyond the field, and that's something worth cheering for.