25 takeaways
25 Takeaways: Week One
Thoughts on the best opening week ever.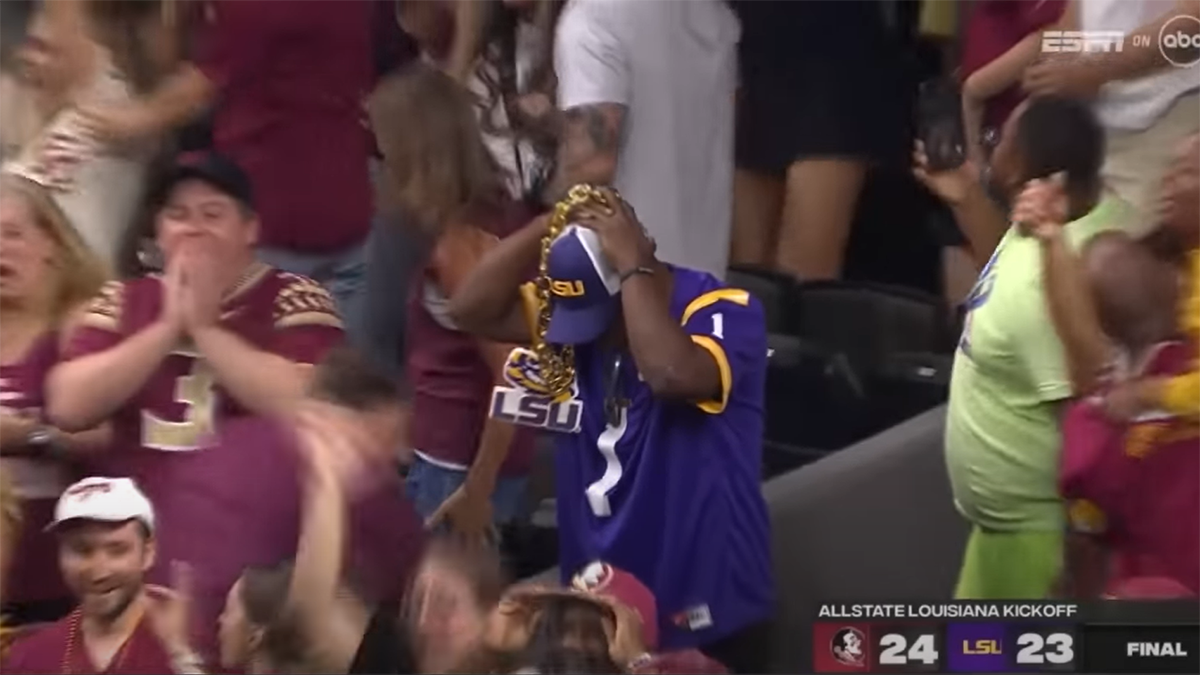 (PSA: Click 'view online' if you're reading on E-Mail to see all the content in this article.)
1. What an absurd five days
This was one of the most entertaining weeks of college football I can remember. From Pitt-West Virginia on Thursday, to Florida State-LSU on Sunday, this week had almost everything you could ask for. I'm not gonna get greedy, but we're in for a hell of a time if the whole season is even 75% as crazy as week one was.
2. Rivalries are the most important thing in the sport
Every person responsible for Pitt-West Virginia not being played for the last decade should never be allowed to make a single decision regarding college sports for the rest of time. What an unbelievable atmosphere, and the game itself more than matched up to it.  
Every play felt like the end of the world, and you didn't need to be in the crowd to feel how much these two hate each other. I was rooting for WVU to pull it off, but even I was going crazy during the game-winning pick six:
This game needs to be on the schedule every season, but the fact that we get it for at least the next three years is a good start.
3. Punt of the year
We may never see something like this again:
4. Florida State-LSU was pure choas
I don't even know what to say about this game. I predicted before the season that it would be the most out-of-control game of the year, but even I couldn't have fathomed what actually happened. LSU getting that extra play when common sense should've dictated game over seems like something a rules committee should address, but it made for a perfect way for Brian Kelly to get dunked on in his first game. I might have to listen to Baton Rouge sports radio this week.
5. Houston-UTSA was delightful
It sucks that this didn't get a bigger spotlight, because it was arguably the best game of the week. UTSA's drive with 23 seconds left to send the game to overtime was a thing of beauty, as was QB Frank Harris' touchdown pass in the second overtime:
Then Houston QB Clayton Tune did this:
This was G5 football at its finest, and with all due respect to CBS Sports Network, it deserved a bigger platform.
6. Georgia is still a tank
I watched the Oregon-Georgia game for about the first three drives before throwing it out of the TV rotation. What a dominant performance, and a true ass-kicking in every facet of the game.
7. I'm not worried about Ohio State's offense
For all the hand-wringing about how they looked against Notre Dame, Ohio State's offense did one thing they haven't done in years: Punched a good defense in the mouth. Sure, there's a lot for them to clean up, but that was as physical as I've seen Ohio State's run game look since probably 2015. Hopefully that starts to give Ryan Day the trust he needs in that group to be less reliant on throwing as much as he likes to. If you want my full thoughts on this game, listen to this week's edition of Scarlet and Gray Stripes:
8. I'm definitely not worried about Ohio State's defense
But real quick, I've gotta talk about the Ohio State defense too. Say what you want about Notre Dame's vanilla offensive gameplan, but I think Marcus Freeman and Co. knew what was going to happen if they tried to open things up as that game went on.
Ohio State's defense looked completely unrecognizable from what we saw in 2020 and 2021, and players who struggled to perform even the most basic tasks under the old staff were flying around making plays. I'm not ready to say this is a top defense, but what a first impression from new Defensive Coordinator Jim Knowles.
Bonus: If you want to get a closer look at what happened on Saturday night, click the button below for the YouTube link to the Skycam broadcast:
9. So many blocked punts
If I learned anything in week one, it's that special teams coordinators around the country need to get their shit together:
As a bonus, there was also this:
10. Weekly Scott Frost take
I don't think it's ridiculous to wonder whether Georgia Southern can give Nebraska a competitive game this week. Regardless of the final score, the Huskers looked awful again versus a North Dakota team they should've run over, and it's hard to see how Frost turns the tide here.
11. Hits of the Week
New season means new hits of the week videos. As always, I try to stay away from headshots or any plays where dudes obviously got concussed:
12. I was wrong about Arizona
I spent the whole offseason trashing Jedd Fisch, and then they went out and yammed on San Diego State in one of the more surprising results of week one. I'm human enough to admit when I get one wrong, and even though it was only week one, Arizona looks like they at least have a good foundation moving forward. Keep an eye on receiver Jacob Cowing. He was a monster at UTEP last year, and caught three TDs in his Arizona debut. I'm not sure if they're bowl material yet, but Arizona is pulling away from the bottom of the Pac-12.
13. Colorado might give up 600 yards rushing to Air Force
With that in mind, let's talk about who's at the bottom the Pac-12.
The Buffs looked shockingly OK against TCU in the first half. The defense held their own, and even though the offense blew some redzone opportunities, they went into half only trailing 7-6. The second half was a disaster.
TCU ran for 260 yards in the second half alone, and probably could've put up 350 if they wanted to. CU's offense gained 61 yards on 20 second half plays before scoring a garbage-time touchdown against the Horned Frogs' second and third-stringers with less than two minutes to go. Is it a bad sign when your team captains say stuff like this after the season opener?
Now they have to travel to Colorado Springs to play an Air Force team who ran for 582 yards last week. Yikes! ('Fire Karl Dorrell' column coming soon!)
14. Cam Rising scored
Incredible game, hell of a win for Florida. That said, how was this not reviewed:
15. My favorite play of the week
There's something truly amusing about this being the first touchdown of the Clay Helton era at Georgia Southern:
16. Hop on the Oregon State bandwagon while you can
The 34-17 score doesn't indicate how bad Oregon State put it on Boise State. The Beavers were up 27-3 late in the third quarter, and pretty much cruised in the fourth for an impressive win to open the season. I said they were poised for nine wins back in July, and they should be 3-0 by the time they play USC at home on September 24. There's plenty of seats available on the OSU bandwagon, and we're headed to Las Vegas in early December.
17. What the hell was Purdue doing
Of all the dumb shit we saw this week, Purdue's four quarter against Penn State took the cake. I'm all for sticking to your guns and trying to go win the game, but this was ridiculous:
18. That was ugly, Virginia Tech
Virginia Tech outgained Old Dominion 340-245, had a 20-13 first down advantage, and held ODU to 3.6 yards per play. They also turned the ball over 5 times –with QB Grant Wells throwing four interceptions, including one with less than 3 minutes left– and gave up 10 fourth quarter points to lose 20-17 in new head coach Brent Pry's first game. The Hokies have a long climb back up the ACC ladder ahead of them.
19. Dino Babers renaissance?
Staying in the ACC: How about the out of nowhere ass-whupping that Syracuse put on Louisville? Dino Babers looked like an obvious hot-seat candidate coming into the year –until that buyout number became public, at least– but there may be a little life in his program, after all. The back half of their schedule is brutal, but games against UConn and Wagner should be easy wins. Can they find a way to snag 3 more ACC wins, get to a bowl, and save Dino's job for sure?
20. Not a great start for Spencer Rattler
I'll confess to not watching South Carolina's 35-14 win over Georgia State closely, but just digging through the box score and scrubbing through highlights, Spencer Rattler's first impression left a lot to be desired:

The two picks were ugly, and he was also sacked three times. The offense as a whole never found a rhythm, running for only 79 total yards and firing off seven punts. South Carolina plays at Arkansas this week, and they probably can't count on blocking two punts for touchdowns like they did against Georgia State. Can Rattler and the offense bounce back?
21. It might be a negative-year one for Stan Drayton at Temple
I've been a fan of new Temple Head Coach Stan Drayton since his days as a running backs coach at Ohio State, so I'm rooting for him to do well in his first Head Coaching gig. Week one showed just how much work he has to do.
Temple lost lost 30-0 to a Duke team who might be pretty brutal themselves, getting outgained 500-179 in the process. Their game this week against Lafayette should be (?) a win, but it looks like its going to be a long first season for Drayton in Philly.
22. Clemson's offense is radioactive waste
Don't let the 41-10 win over Georgia Tech fool you: That was another horrific game from the Tigers' offense. DJ Uiagalelei takes all the shit, but at this point the whole operation above him is rotten. In what universe does it make sense for Clemson to only run for 127 yards at 3.2 a pop against Georgia Tech's front? I don't know shit about scheme, but why does everything Clemson run look like something you'd see from a new coach on day one of his first practice? It's one week, but Clemson looks like the exact same unbalanced team they were last year.
23. USC/Miami in the background
Week one didn't tell us anything about USC or Miami. Lincoln Riley left his starters in until they were up 52-14 on Rice, while Mario Cristobal's squad predictably hammered Bethune-Cookman, 70-14. We'll learn more about SC this week in primetime at Stanford, while Miami gets Southern Miss before their first real test at Texas A&M next week. It's going to be a while before we get a true read on either of these teams, and in a weird way I think that's exciting.
24. New Mexico State might have the worst offense I've ever seen
It's only two games, but New Mexico State is currently averaging 197 offensive yards:
The raw numbers don't do justice to how ugly it's been. 67 of their 218 passing yards against Nevada came on one play, and 54 of their 91 total yards against Minnesota came on a second half drive when they were already trailing 38-0. I actually watched a decent chunk of both these games, so I'm not just box score hunting here. This offense is next-level bad, and could finish as an all-timer by the end of the year.
25. Early week two thoughts
I can't wait for Pittsburgh-Tennessee
Things are going to get ugly for Scott Satterfield at Louisville if (when) they lose to UCF
Laughing at Texas already waving the white-flag against Alabama
Texas A&M-Appalachian State will be fun for everyone except Texas A&M fans
Will Iowa-Iowa State reach 20 total points?
Kentucky-Florida feels like it'll come down to the last second
BYU-Baylor is a hell of a game to finish day