2023 Season
Report Card: Mid-season grades for every team
What grade did your favorite team get?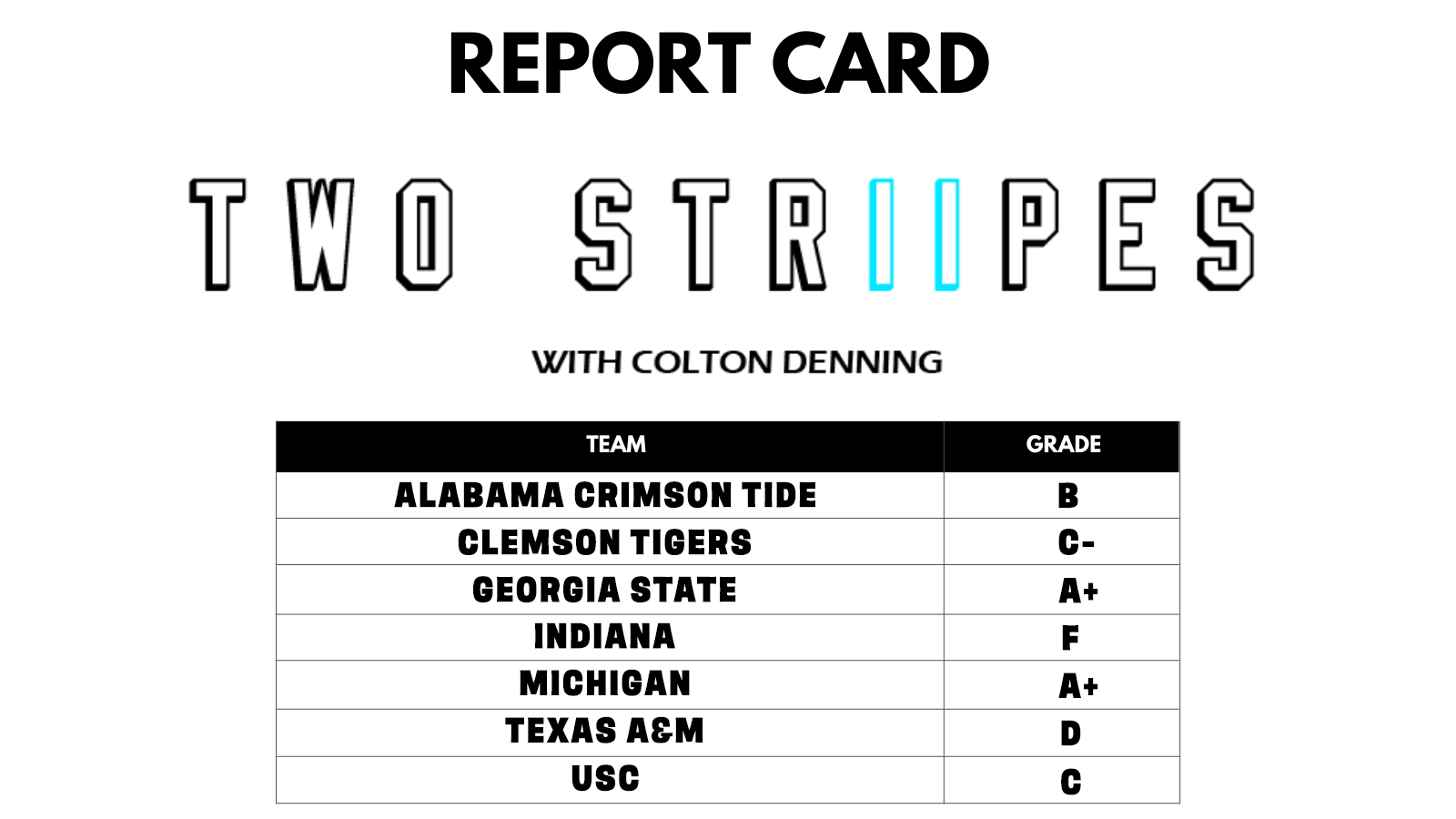 For those reading on e-mail: click 'view in browser' to see the full contents of today's post
---
Every team in college football has finally played at least six games. That means we've reach the true midpoint of the season, and it's time to check in with each of them and hand out some grades. How'd your team do? Find out below:
Air Force (6-0): A+
The Falcons can make a run at going undefeated with this schedule. They're top-20 nationally in scoring, and predictably have the top rushing offense in the country. They get extra credit because I've seen them in person this year:
Akron (1-6): C-
The Zips have gone through it. Three of their six losses are by three points or less –including two overtime games– and star quarterback DJ Irons is injured and out for the year. I still trust Joe Moorhead long-term, but he's just has to gut the rest of the season out and find who his guys for 2024 are.
Alabama (6-1): B
The loss to Texas doesn't knock them down as much as whatever that game against South Florida was. Jalen Milroe is improving, and I'm certainly not counting them out of the playoff race yet.
Appalachian State (3-3): D
I thought their uneven play last year would be a blip, but it might just be what the Mountaineers are in Shawn Clark's fifth season. All three of their losses have been close, but the defense is dreadful, and they were fortunate to beat Louisiana-Monroe.
Arizona (4-3): B+
I made fun of the hire when it happened, but Jedd Fisch has turned Arizona into a tremendous pain in the ass for everyone else in the Pac-12. They damn-near beat USC in The Coliseum, took Mississippi State to overtime on the road, kept it close against Washington, and absolutely smoked Washington State on the road. The only thing keeping this grade from an 'A' is that they should've gone for two and the win in the first overtime against USC.
Arizona State (1-5): C
ASU was always going to suck this year, so I'm cutting Kenny Dillingham some slack. They barely snuck out a win over Southern Utah, but played pretty well against USC, Cal, and Colorado. They just need to survive the rest of the season:
Arkansas (2-5): D+
I feel better about the Hogs than the grade I'm giving them, but at some point you are what your record says you are. They've lost five straight, and even though they played both Bama and LSU tough, I can't shake the home loss to BYU.
Arkansas State (3-3): C-
One thing is certain about 2023 Arkansas State: They hate playing close games. The average score of their losses is 48-2, and the wins are at 42-24. Butch Jones is a staple of the Hot Seat Rankings, and needs a big second half to make it to year four.
Army (2-4): D
Army moved away from the traditional triple-option, and their offense has gotten worse. Taking away their 57-0 win Delaware State, the Black Knights rank 120th nationally in scoring at 18 points per game.
Auburn (3-3): C
I was severely underwhelmed by what I saw in-person from Auburn's offense against Cal, but I also have to remember the nasty mess Bryan Harsin left Hugh Freeze to clean up. I still don't get Payton Thorne starting at quarterback over Robby Ashford, though. Regardless, I'm banking on the Tigers beingmuch better by the end of the season.
Ball State (1-6): F
The Cardinals have scored more than 20 points against six FBS opponents just once, and it might be closing time for Head Coach Mike Neu.
Baylor (2-4): D+
This bumps up to a 'C' if they don't blow the Utah game, but the crazy comeback win over UCF evens things out. The loss to Texas State is starting to look semi-understandable, and 2-4 is right where they belong.
Boise State (3-4): D
Nothing sums up Boise's first seven games better than this:
They're flirting with their first sub-.500 season since 1997, and still have to play Wyoming, Fresno State, and Air Force.
Boston College (3-3): C
Jeff Hafley's job status has been riding on the edge of a lightning bolt, which means BC's played some wild games: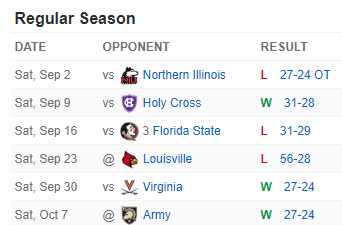 Quarterback Thomas Castellanos is a fun player you need to keep an eye on.
Bowling Green (3-4): C+
My personal vendetta against BG Head Coach Scott Loeffler won't stop until he's removed from power, but I have to give them credit for beating Georgia Tech.
Buffalo (2-5): C
I was a huge fan of what Maurice Linguist did last season, but they've taken a clear step back. They've won two of their last three, so maybe my outlook will be more positive at the end of the year.
BYU (4-2): B-
The majority of this positive grade comes from their big win at Arkansas, but they've lost two of their last three, including getting smacked 44-11 by TCU last Saturday.
Cal (3-4): C
I'm still mad about watching them piss away an incredible performance from their defense against Auburn in person. Their schedule's been brutal –the losses are to Auburn, Washington, Oregon State, and Utah– but 3-4 at this point is pretty much what I expected. They led Oregon State 35-32 going into the fourth quarter, and they're squirrely enough that they might catch someone slipping over the final two months.
Central Michigan (4-3): B
SP+ hates CMU, but I like what Jim McElwain's doing there, and they're two wins from bowl eligibility.
Charlotte (1-5): C-
I don't think anyone expected much in Biff Poggi's first season, and their 1-5 record reflects that. They gave Maryland a decent game, and only lost 22-7 to Florida; so the signs of life are there, at least.
Cincinnati (2-4): F
My personal bias against Scott Satterfield doesn't even factor into this grade, because the Bearcats have lost four straight. One of those was to Miami (Ohio), which isn't that crazy when you see that the Redhawks are 6-1. On the flipside, it's Cincinnati's first loss in the last 17 meetings of the rivalry, which is never a fact you want on your resume
Clemson (4-2): C-
Is it good when your head coach has a quote like this halfway into the season?
Coastal Carolina (3-3): C+
I was prepared to give a lower grade, and then they beat App State on the road behind Grayson McCall throwing for 372 yards. Tim Beck escapes my wrath for now.
Colorado (4-3): A
At this point last year, CU was 1-5, had just fired Karl Dorrell, and was outscored 229-87 (38-14 average). The Stanford loss was embarrassing –and is the only thing keeping this from an A+– but Deion Sanders has made an unbelievable amount of progress in such a short period of time.
Colorado State (3-3): B
CSU made waves for bringing the fight to Colorado, but they've won three of their last four games, and have a decent shot at their first bowl since 2017. Get familiar with receiver Tory Horton:
Duke (5-1): A+
They shouldn't have lost to Notre Dame, but Duke's having a special season and deserves full marks. Their defense might be the most underrated group in the country. Hopefully star QB Riley Leonard is back in time for their showdown with Florida State this weekend.
East Carolina (1-5): F
The post-Holton Ahlers era has been ugly for the Pirates offense. They rank 121st nationally in points per game (19.2), and have a 2:8 team TD:INT ratio.
Eastern Michigan (4-3): B
The only thing keeping this from an 'A' is how rough the offense has been, but Chris Creighton's team just finds ways to win.
Florida International (3-4): C-
Last week's bad loss to UTEP might've killed any hopes of the Panthers bowling, but they do have some intriguing talent, led by receiver Kris Mitchell:
Florida (4-2): B-
I had to think about this for a while. They throttled Tennessee, and just had a wild win at South Carolina. Hell, it might be time to accept that Graham Mertz is a solid quarterback! But they also looked lifeless against Kentucky, and are inconsistent enough that I don't fully trust them yet.
Florida Atlantic (3-3): B
The Owls closed their first half strong by beating Tulsa, then mopping the floor with USF in their own house. I like their trajectory, and I also dig these:
Florida State (6-0): A
There were a couple dicey moments against Boston College and Clemson, but the season-opening win over LSU is aging beautifully. FSU's in as good a position as anyone as the playoff race starts to take shape.
Fresno State (6-1): A+
I thought they'd fall off a cliff after all the production they lost from last year's team, but the Bulldogs look poised to make it back to Mountain West Championship.
Georgia (7-0): B+
It hasn't always been pretty, but I don't think that bothers Kirby Smart at all. Quarterback Carson Beck looks like he's piecing it together, and I'll believe that someone can finally beat them when I actually see it.
Georgia Southern (4-2): B+
Getting blown out by James Madison ended their first half on a sour note, but Clay Helton's squad deserves credit for building on what they started last year.
Georgia State (5-1): A+
They just demolished Marshall, and this has potential to be the best year in the short history of the program. Quarterback Darren Grainger is one of the most entertaining players in the country:
Georgia Tech (3-3): C-
I look at Georgia Tech's season like my parents must've looked at my high school report card.
Bowling Green diced them at home (Me, failing chemistry), but then they pulled off a miraculous win at Miami. (Me, turning in an extra credit paper on the final day of school that was the difference between me graduating and repeating senior year.) They haven't won back-to-back games (Me, ditching at least 3-4 classes a week), but have two ACC road wins (Me, getting straight B's in any classes that weren't math or non-meteorology-related science.)
That's a 'C-' student if I've ever seen one. I'd know, because I lived it.
Hawai'i (2-5): C-
Am I giving Hawaii a higher grade than I should because I want Timmy Chang to succeed? Absolutely. The Rainbow Warriors were outscored 35-20 on average last year, and that average is 36-24 this season. Small progress!
Houston (3-3): C-
2023 Houston is the definition of "Used the wrong formula to get the right answer," and I refuse to give them full credit for it. Their wins are by three points versus UTSA, a blowout over winless Sam Houston, and last week's miracle against West Virginia. These guys haven't even left the state of Texas yet!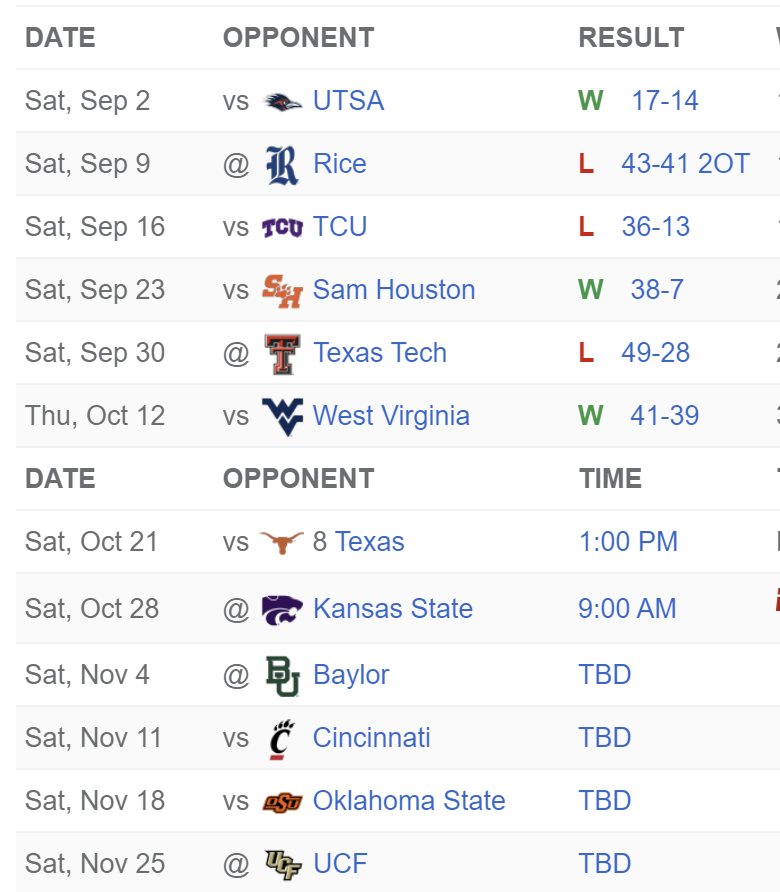 Illinois (3-4): C
It's been pretty bleak for the Illini at times (Purdue beating them by 25, losing 20-7 to Nebraska) but their upset win over Maryland last week earns them a full letter bump-up.
Indiana (2-5): F
Indiana needed four overtimes to beat Akron, haven't scored more than 17 points in regulation against any team not named 'Indiana State,' and already fired their offensive coordinator. Tom Allen is destined for the top spot of this week's Hot Seat Rankings.
Iowa (6-1): A
I don't care how shitty the offense is. Iowa reminds me of the 2000 Baltimore Ravens, and I can't get enough of how mad it makes everyone.
Iowa State (3-3): C
I've been front and center to make fun of Matt Campbell when things have gone wrong for Iowa State, but they've stabilized recently. They've won three of their last four, and are 3-1 in Big 12 play.
Jacksonville State (6-2): A
JSU's first year in FBS has been a resounding success. They're gonna be a handful for the rest of Conference USA for the foreseeable future.
James Madison (6-0): A+
I've made no secret how much I love watching the Dukes. Their run defense is about as close as you can get to putting a literal brick wall on the field:

Kansas (5-2): B
Last week's loss to Oklahoma State stings, but Kansas has been just as fun as they were last year. Hopefully star QB Jalon Daniels comes back soon.
Kansas State (4-2): B-
4-2 is probably right where Kansas State should be, even if the losses to Missouri and Oklahoma State were frustrating.
Kent State (1-6): C
This is already one of the hardest jobs in the country, let alone for a first-time head coach picking up for Sean Lewis' abrupt departure. Kenni Burns is doing the best he can, and they just need to find ways to be competitive in MAC play.
Kentucky (5-2): B
Blowout losses to Georgia and Missouri knocked them back to earth a bit, but I've enjoyed how stingy UK is defensively, as well as the fierce running of Ray Davis.
Liberty (7-0): A+
I thought it would take Jamey Chadwell some time to get his offense rolling, but they've mostly picked up right where he left off at Coastal Carolina. Can they make a real push at a NY6 Bowl?
Louisiana (4-2): B
An early loss to Old Dominion had me wondering if Louisiana was going to be as shaky as they were last year, but they've been impressive over the last month and a half, especially against Texas State.
Louisiana-Monroe (2-4): C
The Warhawks are agonizingly close to being 4-2. They lost on a last-second kick to Appalachian State, and in the final minute to Texas State.
Louisiana Tech (3-5): D
Tech hasn't found any consistency on either side of the ball. They've trailed by double-digits at some point in six of their eight games, so they're constantly playing from behind. Every one of their games is worth watching for receiver Smoke Harris, though.
Louisville (6-1): A-
Last week's loss to Pitt was ugly, but Jeff Brohm's team is doing exactly what I thought they could in back in the preseason:
Of all the coaching hires this offseason, this one might pay off big the quickest. Purdue was in the gutter when Brohm took over in 2017, and he took them bowling in his first year. After a two season stumble in 2019-2020 (6-12 overall) the Boilermakers went 17-9 in 2021-2022, including a Big Ten Championship appearance last year. Brohm knows how to build a program, and he excels at making the lives of opposing defense coordinators miserable.
He has a nice group of talent to work with at Louisville, scoured the portal to help fill some holes on each side of the ball, and the Cardinals are in a much better spot for him to build off than what he started with at Purdue. The more I think about it, the more I'm convinced that Louisville is the biggest surprise of the season. They don't play Clemson, Florida State, or North Carolina, and this schedule sets them up for a real run at 10 wins
LSU (5-2): B
LSU has no defense, but I love how chaotic their games are. Jayden Daniels is a tough SOB, and they can score with anyone in the country.
Marshall (4-2): B
I like what I've seen. They play a physical style, and this week's matchup against James Madison will be a hell of a lot of fun.
Maryland (5-2): B-
Losing to Illinois at home is unforgivable for a program trying to establish itself at the top of the Big Ten's second tier.
Memphis (4-2): B
Memphis is fun offensively, and played well in two losses to good teams (Missouri, Tulane). Gabe KUHN is a paid subscriber, so I support the Tigers.
Miami (FL) (4-2): C-
The last two weeks tanked Miami's grade. Not taking a knee against Georgia Tech was the blunder of the season, then North Carolina pieced them up good in primetime. I thought their dominant win against Texas A&M would show that they've turned the corner, but I'm not convinced there aren't three losses left: